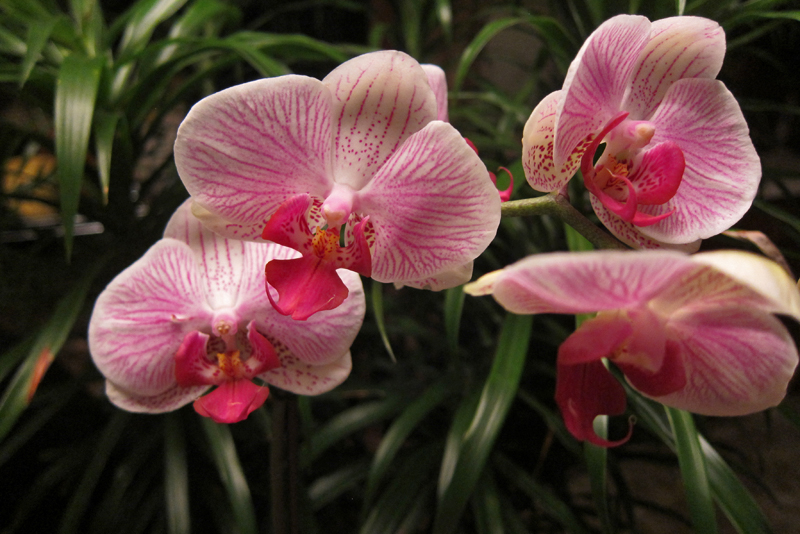 Growing orchids is a wonderful hobby for almost anyone. Exhibiting them at a local orchid society meeting is the next step. We all have the need to show off our plants when they are looking beautiful!

Most orchid societies have a "plant table" which is basically a mini-show for the members to bring in their flowering orchids. This is a very helpful tool for the beginning grower. You can see what the plant as well as the flowers look like before you actually buy one. Talking to the grower in your area of the country to see how they grow the specific plant can also be extremely helpful. You learn that not all plants are specimen size with hundreds of blooms, some are young plants with only one or two flowers like the ones you have!

The principles for preparing your plant to exhibit at a plant table and at a show are very similar -- you are trying to present your plant in the best light possible. This begins as soon as the plant starts to show an inflorescence.

For Phalaenopsis this means staking the inflorescence when it reaches approximately 12 inches or 30 cm high. Use a stake of your choice, usually wire or bamboo, to carefully provide support and exhibit the flowers most beautifully. It is also important to make sure that the plant is not turned once the inflorescence has started to grow -- if this happens, the inflorescence will twist and the flowers will not present evenly.

For Cattleya Alliance plants and Paphiopedilums, use the stake to hold the inflorescence upright so the flowers are presented facing the viewer. This may be done with standard stakes or taking thin wires and making a "u" hook in them to hold the inflorescence. The important point is to provide support to hold the flower in the best possible position for viewing.

Clean up your plant, taking off all old materials, trimming leaves of brown areas and sponging off leaves with either milk and water, or lemon juice so that all chemical residues are removed. Put it in a decorative container with some moss to finish it off and "Voila" a plant to be proud of and wow your fellow growers.

You Should Also Read:
Neolauchea pulchella
Growing Orchids in a Terrarium or Wardian Case
Review -- The Potting Workshop


Editor's Picks Articles
Top Ten Articles
Previous Features
Site Map





Content copyright © 2023 by Susan Taylor. All rights reserved.
This content was written by Susan Taylor. If you wish to use this content in any manner, you need written permission. Contact Anu Dharmani for details.