Isabelia pulchella, The Beautiful Neolauchea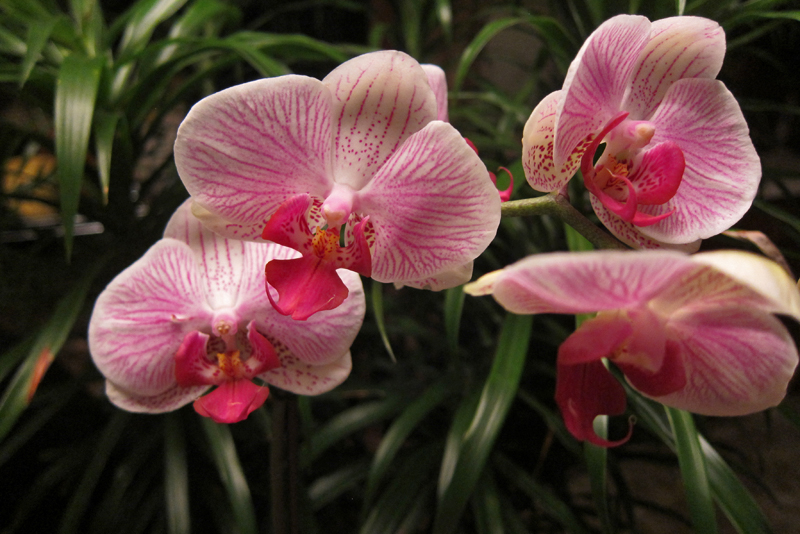 Isabelia pulchella
, also known as
Neolauchea pulchella
, is a wonderful little miniature with odd terete three-inch (6-7 cm) leaves covered with hair-like bracts native only to Brazil. It is a cool to warm growing plant with a branching growth habit and lovely magenta half-inch (2 cm) flowers that will last for approximately a month. Be sure to click on the "Plant and flower" link when you check out the flower to see what this plant will do when grown well.
Light requirements are similar to those for
Phalaenopsis
although they will grow under
Cattleya
light conditions and they should be grown in intermediate temperatures of a minimum of 55 degrees to a maximum of 85 degrees Fahrenheit (12 to 30 degrees Celsius). They come from a cool, mist covered mountainous region so humidity of at least 50% is required. They seem to be rather demanding in respect to the water they will tolerate so rain water, reverse osmosis or distilled water is best. They like to be kept rather moister than most orchids with just a slight drying out period between waterings. Since it is from a cloud forest area naturally, morning mistings are recommended and it should be dunked three to five times a week in warm weather. Sphagnum moss around the roots will help keep the plant moist between waterings and mistings. It should be grown mounted on cork, tree fern or wood and grows to cover a good sized mount fairly quickly. Good air circulation is recommended, so placing this little one close to a fan will make it happier!
Blooming period is anywhere from winter to spring depending upon light and other cultural factors. When the plant is mature, the flowers will cover the plant. This would be a good little plant to try in a terrarium or Wardian case if you can keep the temperatures low enough and air circulation constant.
A picture of Isabelia (Neolauchea) pulchella
thanks to Katrina moderator of the of Species Specialists forum in Ireland showing the growth habit of the plant and pseudobulbs.
close up picture of Isabelia (Neolauchea) pulchella
showing new growth emerging. She specializes in growing cool to intermediate species. The link to the forum is
Species Specialist Forum
.
Here is a listing of some vendors who provide seed grown species. Of course, not all species are always available. If you're interested in something, talk to some of these vendors to see if there's another variety that is close. Often the only difference would be 8 inches tall versus 6 inches or a different colored flower. Also, please mention that you are calling as a result of seeing them recommended on BellaOnline Orchids.
Andy's Orchids
Bergstrom Orchids
Carter and Holmes
First Ray's Orchids
Miranda Orchids
Neptune Orchids
Norman's Orchids
Oak Hill Farm
Parkside Orchids Nursery
Tropical Orchid Farm
You Should Also Read:
Angraecum distichum
Growing Orchids on Mounts
Miniature Orchid Series


Editor's Picks Articles
Top Ten Articles
Previous Features
Site Map





Content copyright © 2022 by Susan Taylor. All rights reserved.
This content was written by Susan Taylor. If you wish to use this content in any manner, you need written permission. Contact Anu Dharmani for details.