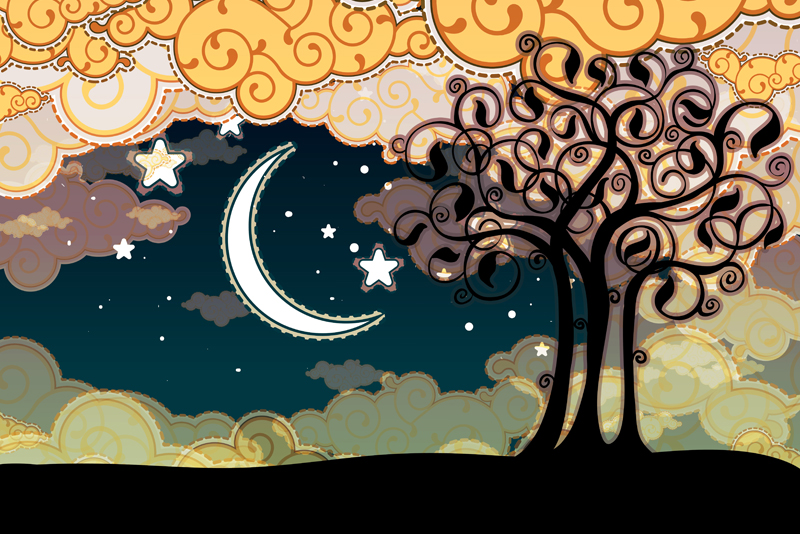 September is time for harvesting food for the winter. It is a time of trips to the apple orchard and the pumpkin patch. The leaves begin to change colors and the earth begins to die. The days become shorter and the nights become longer. Fall is upon us and we must prepare for the winter ahead.
Mabon or the Autumn equinox marks the beginning of fall. The autumn equinox usually takes place around the twenty-first or twenty second of September. Just as Lammas, Mabon is a harvest celebration. The apple plays a large part in this celebration. The apple is a sacred fruit to Pagans. A five pointed star is contained inside the apple.
The harvest season is coming to an end. Soon the earth will become dormant for the winter. There will be no more growth and renewal until spring. Mabon celebrates the harvest season. It is a time to give thanks for the harvest and begin to prepare for the winter.
There are many activities for the family to honor Mabon. A fun family trip to apple orchard to pick apples and look for fall decorations is a simple way to do it. The pumpkin patch is another good place to take the family. You can pick out pumpkins and gourds for decoration or ritual. There are hayrides and fall festivals.
You may decide to have your own Mabon celebration with friends and family. The celebration can include giving thanks for the harvest. The food for the celebration can include apple pie, pumpkin pie, squash, or any fall food that you desire. Wine can always be used for celebration and ritual. Apple Cider is good for the children and others who can not or do not drink wine.
Pumpkins, gourds, corn stalks and more can be made into decorations for the celebration. The colors of fall can be the theme. The colors of the changing leaves, red, orange and yellow are dominant. Fallen leaves can be made part of the decorations or part of a ritual.
Mabon is the time when light and dark are equal. It is after the autumn equinox that the days become shorter and the nights become longer. It is a time to be thankful for light and dark. It is a time to be thankful for the long days of summer and the bountiful harvest. It is also time to prepare for the long days of fall and the coming winter.


Related Articles
Editor's Picks Articles
Top Ten Articles
Previous Features
Site Map





Content copyright © 2022 by Teresa Post. All rights reserved.
This content was written by Teresa Post. If you wish to use this content in any manner, you need written permission. Contact Ian Edwards for details.