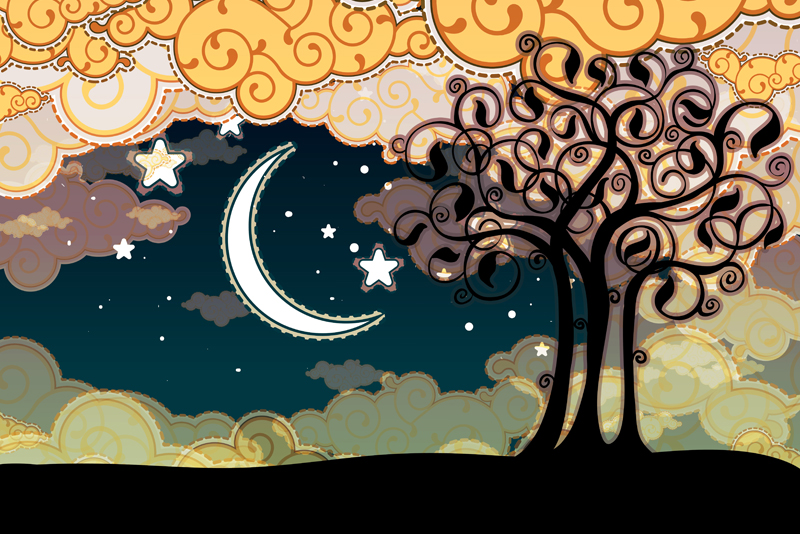 The majestic full moon hangs in the night sky displaying its beauty. The full moon illuminates the sky and shines a magical light on the earth below. The Goddess is associated with the full moon and the magical energy that is produced at the time.
The full moon is perfect a time to perform divination, spells and rituals. Magical energy is heightened by the full. Tarot readings or crystal ball readings may be more accurate during a full moon. It is a good time for protection spells, healing spells, and psychic awareness. These spells may be more effective during the full moon.
Divination performed during the full moon may be more accurate. The power and energy of the full moon can be utilized to assist in any divination performed. Crystal ball readings are a good example. Crystal balls can be read by the light of the full moon. This way the crystal ball is illuminated by the full moon and filled by the energy of it as well.
The full moon is a good time for spells and magic. You can perform spells that are published in books or online. Spells that are composed by you are just as effective and in some cases more effective that those published elsewhere. Spells composed by you contain your energy and your intent. You would prepare for a full moon spell in the same way you would prepare for any spell. Preparing for a spell is a personal experience. Whether you prepare with a ritual bath, meditation, calling the quarters, casting a circle, or another way, you are prepared.
Protection spells can be performed during the full moon. A protection spell can be preformed outside under the full moon or inside. The location is not as important as the intent of the spell. You can write your own protection spell. White is a good color for a protection spell. A white candle, altar cloth, or robes are some suggestions. Sage is an herb that is used for protection, especially for protecting your home. A quartz crystal can also be used for protection. A crystal works well for personal protection because it can be charged with protection energy and worn on the person.
Healing spells can also be performed on the full moon. The colors blue or red are good for healing spells. Blue can be used for general healing. Red is used if there is a specific disease or ailment that you want to destroy. Sage can also be used for healing. Other herbs for healing include cinnamon, peppermint, and eucalyptus. Hematite is a good stone for healing.
Psychic awareness may be heightened by the full moon. It is also a good time to work on increasing your psychic awareness. You can do this by performing a spell or mediation. The color of psychic awareness is indigo blue. It is the same color that corresponds with the third eye or psychic energy center in the body.
The full moon is powerful and magical time. Spells and divination performed during the full moon are filled with the energy of the moon.


Related Articles
Editor's Picks Articles
Top Ten Articles
Previous Features
Site Map





Content copyright © 2023 by Teresa Post. All rights reserved.
This content was written by Teresa Post. If you wish to use this content in any manner, you need written permission. Contact Ian Edwards for details.