One of the games I explicitly tracked down at E3 was Guitar Hero 2. I *love* the Guitar Hero series! The new version offers the same fun gameplay with more songs.
Here is the current songlist, which of course is only a starting point. These songs are "redone" in the game - i.e. you listen to a cover band doing them, not the original band. Still, the songs I heard at E3 were rather close to the original.
1. You Really Got Me -Van Halen
2. Strutter - KISS
3. Who was in my room last night - Butthole Surfers
4. Warpigs - Black Sabbath
5. Arterial Black - Drist
6. Psychobilly Freakout - Reverand Horton Heat
7. YYZ - Rush
I really wish they could allow new songs to be downloaded, like I do with my music games on the XBox side. It's fine to have a "starting point" of songs for a game, but you get tired of those pretty quickly if you play the game a lot. It'd be great to be able to add fresh songs whenever you wanted to!
As far as what the game LOOKED like, well, do we really care? The fun of the game is hammering on the guitar while the music plays! Still, if you're interested, here are a few screenshots.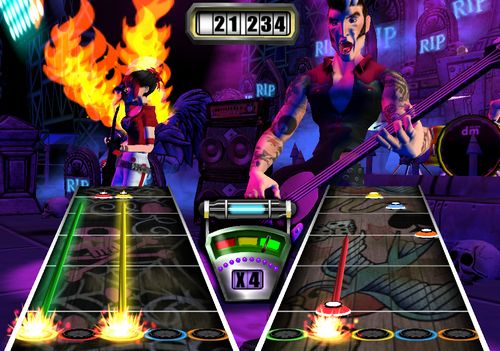 Now what was REALLY cool is that they had a PINK guitar at E3!! They claim they are only going to sell black guitars when the game comes out - but I think if we all wrote them and demanded pink guitars that maybe we would get them. They could even do charity breast cancer giveaways. I think it'd be a huge seller. Also, they need more sticker options. Those flames were interesting, but surely they could have other options!
There were a few minor bugs in the build we saw. When 2 people played together (really cool - one on lead, one on bass) if one person screwed up, you heard nothing. You should still hear the person who was playing properly. Also, while the male character was leaping around, the female character looked like she was falling asleep even though that player was doing a MUCH better job playing and the song was a rocking one. These were minor problems that I'm sure will be hammered out before this goes live.
I'll let you know as soon as I get more information on this fun game!


Related Articles
Editor's Picks Articles
Top Ten Articles
Previous Features
Site Map



Follow @lisavideogames
Tweet





Content copyright © 2022 by Lisa Shea. All rights reserved.
This content was written by Lisa Shea. If you wish to use this content in any manner, you need written permission. Contact Lisa Shea for details.