I would like to introduce you to the newest member of my doll family. She is
Toni
, a 22 inch doll made by Annette Himstedt, as part of her American Heartland Children series which is part of her Barefoot Children Collection. Toni was made from 1985 to 1987, but to look at my doll you would think she is quite new, she is in excellent condition.
I bought her on an online auction and I was very lucky, I'm not sure if the person who sold her was aware of her value, but I was able to get her very inexpensively. Annette Himstedt has closed her doll making manufactory, so the value of her dolls is sure to rise, for those who collect dolls for their resale value. I am not one, I'm just so happy to have her, she will be with me for a very long time.
My Toni came with all her original clothes. She has a one piece under garment which is like an undershirt and pantaloons together, which button at the back and is trimmed in eyelet lace. Over that she has a half slip with an elastic waist and more eyelet trim. Above that she wears her blue dress with white trim. The dress has a waistband the ties in back and also buttons in back. The clothing is very well made of durable, but soft, fabric. And yes, I did have to undress her completely as soon as I took her out of her box, doesn't everyone do that with a new doll?
What I like best about Annette Himstedt dolls is the unique features and expressions on their faces. She has sculpted dolls to look like children from around the world and their wigs, which is real human hair, accents the dolls ethnicity. They all have very long eyelashes, which is also human hair. In the close up photo at right you can see the eyelashes and the beautiful detail of her sweet face.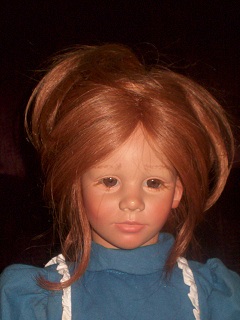 I am no better at styling doll hair than I am at doing my own, but her hair is very soft and easy to work with, and I just love the color.
Toni came with a certificate of authenticity and a brochure about the American Heartland Children.
Making and Dressing Cloth Dolls
Ebook with patterns and instructions to make 5 cloth dolls as well as chapters on general doll making techniques.The book includes 21 inch Lalena Doll, 21 inch David Doll, Bear Dolls, 9 inch Destiny Doll and 15 inch Annie Doll, all together in one handy book. 53 pages.
Making and Dressing Cloth Dolls
.