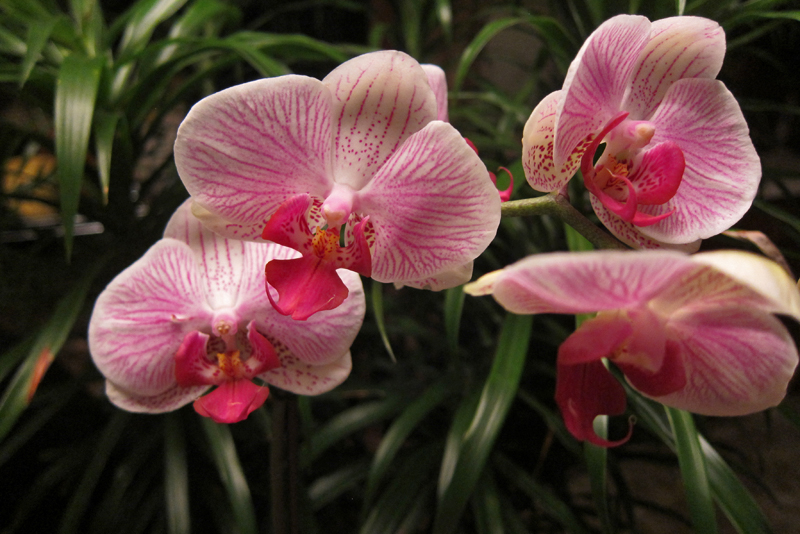 This is a continuation of the Tips articles which were posted previously. If you have any tips you'd like to contribute, please send me an e-mail with "Tips" in the subject line. I would like to thank the members of the AOS Forum, Orchid Dreams Forum and the Houston Orchid Society for the tips they contributed.

Tip to get Phalaenopsis Orchids to rebloom
In order to get your Phalaenopsis to rebloom, cut off all spikes from the previous year in the middle of July even if they're still blooming from side spikes. In some breeding lines, the side shoots will continue indefinitely. But for best blooming, cut the old spikes to force the plant to grow and produce healthy new flower spikes. Also be sure that you do this if you are repotting the plant.

Use good quality tools
Use the best quality tools you can afford. Purchase clippers specifically designed for orchids and bonsai. These can be found at many orchid sites on the web. I like the Fiskars line of tools the best. They are the right size for smaller hands and come in a variety of sizes for different applications.

Use a beer bath to kill snails and slugs
Put beer in a flat container to attract and kill snails and slugs. The liquid needs to be deep enough to drown the nasty creatures, about half an inch deep. The snails and slugs will drink the liquid and then drown. Dispose of every couple of days and replace.

Use Epsom Salts in your fertilizer in the Fall
Some growers recommend adding a teaspoon per gallon of Epsom Salts to fertilizing solutions for Phalaenopsis in the fall as they are developing their spikes. The extra Magnesium keeps the leaves from yellowing and increases flower production. If you decide to do this, do not spray on the leaves -- you will get a buildup of salts on the leaves which is difficult to remove.

Use powdered Cinnamon as a fungicide
Powdered Cinnamon sprinkled on newly cut areas on orchids works very effectively as a fungicide and helps in the healing process for the wound. Be sure that you use pure Cinnamon, not the kind mixed with sugar. You can also make a waterproof mix with Cinnamon and Elmer's Glue to apply to cut areas – this will last longer than just the application of Cinnamon.

Make sure you know what you're treating for if you have a problem
The number one reason that growers are unable to control problems is that they either don't know what they're treating and use the wrong control, or they use the right control, but do not follow up at the right time following the initial application. If you have scale you need to spray at least three times at five day intervals. If you have thrips you need to spray at least eight times at four to five day intervals.

You Should Also Read:
Growing Orchids in a Terrarium or Wardian Case
Winter Orchid Growing Tips
Did you know Vanilla was an Orchid?


Related Articles
Editor's Picks Articles
Top Ten Articles
Previous Features
Site Map





Content copyright © 2022 by Susan Taylor. All rights reserved.
This content was written by Susan Taylor. If you wish to use this content in any manner, you need written permission. Contact Anu Dharmani for details.