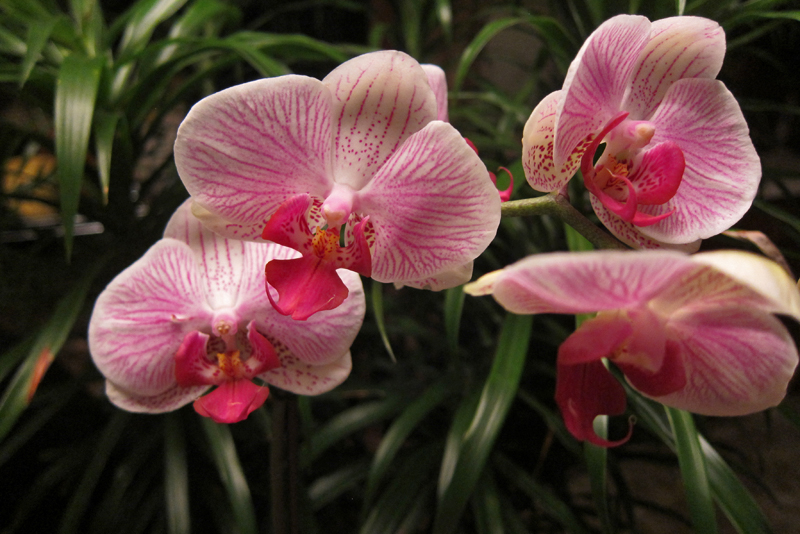 Did you know that Vanilla is an orchid and the extract we use is made from the seedpods or beans produced by the plant? There are about 100 different varieties of vanilla, but the one we are most familiar with is
Vanilla planifolia
or
Vanilla fragrans
. The orchid grows as a large vine in its native South and Central American habitat sometimes reaching 30 to 50 feet (10 to 15 meters) in height when growing in the wild. A predominantly leafless variety occurs in the Florida Keyes
Vanilla barbellata
.
A little bit of history for those who are interested. The first recorded mention in western literature was provided by the Spanish conquistadors under Hernando Cortes who according to legend were given a drink called "chocolatl" by the Aztec emperor Montezuma. The beverage was made from seeds of the cacao tree and flavored with ground vanilla beans. The vines were introduced around the world as man tried to grow the beans commercially and now major producers are located in Madagascar off the coast of Africa and the Comoros Islands and Reunion in the Indian Ocean.
The relative small two and a half inch (6 cm) flowers open sequentially generally with only one flower open at a time over a period of two to three months. Hand pollination is necessary in those areas where the vines have been introduced because there are no natural pollinators. Since the flowers are only available for pollination about 8 hours, this is done daily generally early in the morning. When successful the flowers remain on the vine and can be seen to develop a pod; when unsuccessful, the flowers drop off. Thus it is fairly easy to determine how many pods will be produced.
After a ripening period of six to ten months, the beans are harvested just as they start to ripen and are then cured by immersing in heated water for several minutes, sweating for 24 hours, then sun dried for six to eight days, and finally a drying out period in the shade for two to three months. The drying process can be accomplished in ovens in slightly less time than is required for sun drying and is predominately used in Indonesia where the weather often is inclement for outdoor drying during the harvest season. The final product is a dark brown to black bean with good aroma and a slightly oily luster.
Many orchid addicts try to grow, flower and pollinate this plant to produce the highly desired beans. It is a long and difficult process and few actually get useable pods. Here's a link to
Sharon's Orchid Page
with a photographic essay on how she pollinated her vanilla and then documented the harvest
Vanilla planifolia 2004
.
The best source of information on vanilla I found on the web is provided by
Shanks Extracts
with detailed and interesting information on the plant and the harvest of the beans.
You Should Also Read:
Orchid Growth Types
Recommended Orchid Vendors
Orchid Growing Tips #7


Editor's Picks Articles
Top Ten Articles
Previous Features
Site Map





Content copyright © 2022 by Susan Taylor. All rights reserved.
This content was written by Susan Taylor. If you wish to use this content in any manner, you need written permission. Contact Anu Dharmani for details.