Orchid Flowering in Nature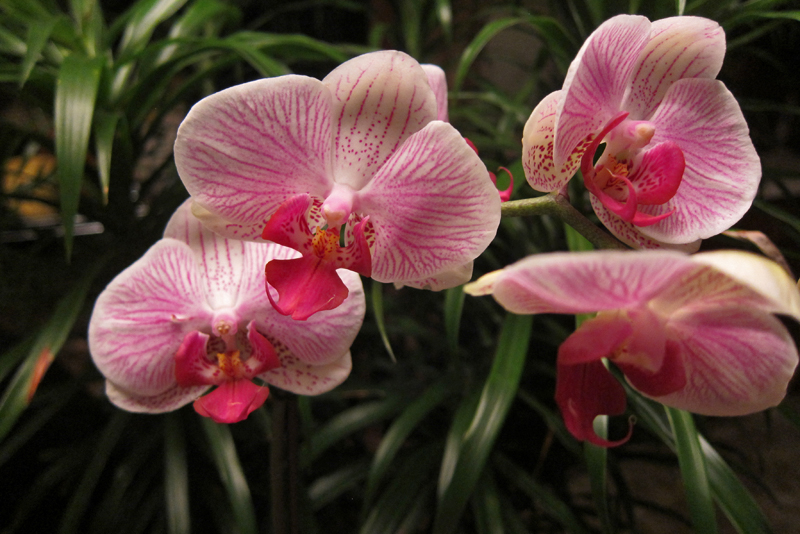 Gaining popularity on the basis of beautiful and unique flowers, orchids, come under the group Angiosperms which includes all flowering plants. Based on the flower size they can be grouped into two categories: orchids with big showy flowers and orchids with small inconspicuous flowers. It is the orchids belonging to the first group which are mostly sold in the markets as cut flowers as well as houseplants. Do not think that orchids coming in the second group are not worth growing, some of them have beautiful foliage and their inconspicuous flowers look beautiful together in the bunch.

Orchids flower throughout the year. There are different species of orchids flowering during different times in the year. Some orchids flower in summer, there are those which flower in winter, some flower in spring and some in autumn. Seeing orchids flowering in wild is a sight to behold!

When I was doing my research on their ecology, I focused on some of the North-Eastern forests of India. I planned trips to these forests mostly in the winters, as during the summers the forests were nearly impregnable, infested with pesky insects like leeches and mosquitoes, not to talk about the dangerous encounters with leopards, marauding elephants and highway robbers. As a consequence, I missed out seeing orchids which flowered in summers. I could not find a single saprophytic orchid as they don't have leafy stems; only stems are the flowering stems; which they shot out during the rainy season. During rest of the year there is no sign of these orchids as they survive in form of rhizomes hidden underground.

During winters the tropical forests, home to large number of world's orchids, takes on a dry look. Most trees are nearly devoid of leaves. It is at this time when orchids can be easily detected on the tree branches as well as in the undergrowth. At this time, many summer flowering orchids which possess pseudostems (ie, stem like structures, but not actually stems); like some Dendrobiums, Thunias etc or those which possess pseudobulbs (bulbs like structures, but not actually bulbs); like some Dendrobiums, Pholidotas etc, drop their leaves and have shrivelled pseudostems/pseudobulbs.

However, orchids which flower in winters, like some Bulbophyllums, Cymbidiums, Dendrobiums, seem to be thriving. Amidst all the dryness, the bright coloured orchid flowers present a very beautiful sight. Orchids like the Bulbophyllum crassipes, which creep along the trunk of the host tree, when in flower cover the whole trunk with bright orangish-red coloured inflorescence.

I also had an orchid, Arundina graminifolia, which flowered throughout the year, with a gap of about one month in between two flowering periods. I hardly ever fertilised it. Only condition it required was high humidity and regular rainfall/watering. Though, sadly I couldn't save it when we shifted to a drier climate.

In case you have any query, please feel free to ask me in my Orchid Forum.
You Should Also Read:
Orchids
Orchids- A Brief Introduction
Orchid Ecology


Related Articles
Editor's Picks Articles
Top Ten Articles
Previous Features
Site Map





Content copyright © 2023 by Anu Dharmani. All rights reserved.
This content was written by Anu Dharmani. If you wish to use this content in any manner, you need written permission. Contact Anu Dharmani for details.