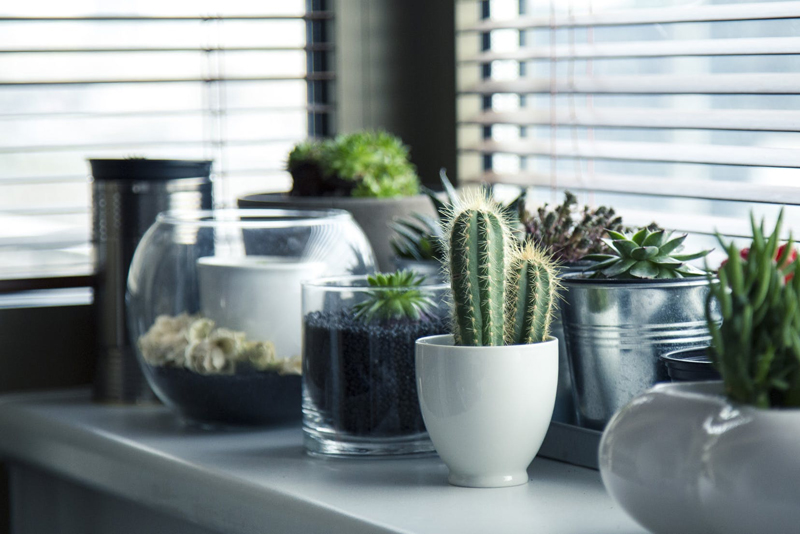 Chlorophytum comosum
, known best to everyone as Spider plant and sometimes as Airplane plant, was the very first houseplant I ever owned. It is one of the first plants in most people's experiences with houseplants because they are so easily passed from person to person for free. My first one came from my mother's plant and since then I've received baby plants from friends and coworkers all over.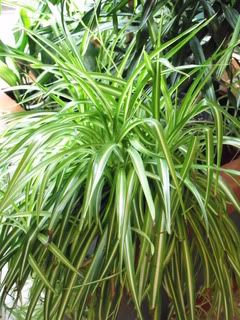 Spider plants enjoy the sun, so find it a nice bright place near a window. Sunrooms are great, if you are lucky enough to have one. If not, try placing the plant near a southern, western or eastern window. If you will be summering your plant outdoors, it may need a bit of protection from the harsh midday sun.
Water somewhat conservatively; the fleshy roots of Spider plant are well-adapted to drier conditions and will rot if the potting mix is left wet. Water well and then let the soil dry out pretty well. If the plant's leaves begin to look faded, it is just past time to water! Not much fertilization is needed so keep that to a minimum, as well. If you would like to fertilize, use a diluted solution infrequently. Every other month is plenty during the growing season and avoid it all together in the winter.
Mealy bugs are the most common pests on Spider plant. They can be hard to detect because they hide deep down between the leaves near the base of the plant. Scale insects can also sometimes be a problem.
Although unrelated to insects, brown, dead leaf tips can be a problem. This is caused primarily by the fluoride found in tap water. Contributing factors may be low humidity or too-infrequent waterings. Watering with rain water or distilled water is the best bet for stopping tip-burn. If you can't collect rain and you don't want to spend the money on distilled you can always snip the unsightly tips off the plant. Letting water sit overnight before using will help some of the chemicals in water, such as chlorine, evaporate, although I haven't had any luck preventing tip-burn with that method.
Spider plant does flower; long, slender stems bear small white flowers that will eventually result in seeds. There really isn't much point in propagating Spider plant from seed as a happy, healthy plant will send off babies in every imaginable direction. Plant babies can be placed in their own pots while still attached to the mother and allowed to root or they can be snipped off and potted. Obviously, the plantlets attached to the mother will fare much better, but success is pretty common even if the babies are separated. If you receive a baby plant that has been detached from its mother and the roots are tiny or nearly non-existent, place it in water to develop some roots for a week or two before potting it up.
If you haven't tried growing Spider plant before, here's a little extra incentive: Spider plant is non-toxic to pets and people. It is also reputed to be an excellent "air-scrubber", removing formaldehyde, carbon monoxide, nitrogen dioxide and other pollutants from the air. Make sure you mention that when you're handing off babies to your friends and neighbors; they'll be even happier to accept the gift when they hear how "green" Spider plant is.
This site needs an editor - click to learn more!

You Should Also Read:
Mealybugs
Summering Houseplants Outdoors
Houseplants Newsletter




Related Articles
Editor's Picks Articles
Top Ten Articles
Previous Features
Site Map





Content copyright © 2022 by Lisa Beth Voldeck. All rights reserved.
This content was written by Lisa Beth Voldeck. If you wish to use this content in any manner, you need written permission. Contact BellaOnline Administration for details.