Bully - Virtual Schoolboy Hijinx
People can pick on the Rockstar group for their Grand Theft Auto series, but I actually found the Bully game much more redeeming. You're a schoolboy taking on the stereotypical cliques.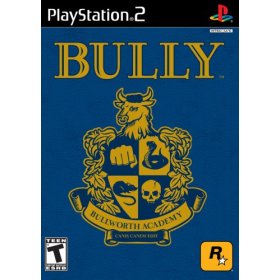 It's pretty clear why you're a depressed teenage boy when the game starts. Apparently your dad has died, and your mom has remarried an elderly, grumpy old man who wants you out of the picture. Your mom is more than happy to dump you off at a stay-all-year school while she goes off with Mr. Moneybucks.
On top of that, the school officials are pretty nasty to you right from the start. Hogwarts this is not! Then as you go into the run-down dorm, other kids start beating up on you! It's time for you to stand up for yourself and make a stand.
There are various groups of kids in this school - the nerds, the jocks, the greasers and the preppies. Activities you do raise or lower your respect level with each group. You have to go to class too - and be there on time! If you're able to manage your schedule properly, you can participate in some pretty fun mini-games (the word scramble can be challenging!) to earn you new skills.
There are girls to court, and usually they want a specific item. So you have numerous quests to go on. The bully activities range from escorting a nerd safely to his locker, to running races and protecting yourself from attacks. You get clothing along the way, and can customize your look (within school regulations, of course).
It's a bit depressing, sometimes, to see how these mid-teen guys treat each other, but this does actually happen in many schools. I'm sure pretty much every person who was once a teen can name the cliques that existed in their school.
The graphics are rather good for a PS2, and the sounds, while again a bit depressing for a teen environment, work well with the game too. On one hand I can not really like the swearing in the game, but certain teens do in fact swear far worse than this game does!
I'd even say this is more like Fable than other Grand Theft Autos, with some of the ways that you can choose how you react in situations.
This game won't be enjoyed by people who are squeamish about violence - it does, after all, involve teen guys all bashing each other for very inane reasons. It also involves a lot of bullying - as you might imagine. Still, if you can deal with those issues, you'll find a really involving game that might actually make you think about how to treat others well.
Buy Bully from Amazon.com


Related Articles
Editor's Picks Articles
Top Ten Articles
Previous Features
Site Map



Follow @lisavideogames
Tweet





Content copyright © 2022 by Lisa Shea. All rights reserved.
This content was written by Lisa Shea. If you wish to use this content in any manner, you need written permission. Contact Lisa Shea for details.