Guest Author - Brenda Potter Reynolds
There's plenty to do in New York State - and you don't have to spend a lot of money to do it. Check out our list of free things to do and see in the Adirondack Mountain Park region.
Saranac Lake Ice Carnival, Saranac Lake
If you find yourself in the Adirondacks during early February, you can't go wrong at the Ice Carnival. The oldest winter festival in the east, the carnival runs for 10 days usually sometime during the first two weeks of February. There are a variety of activities during the carnival, some with admission costs, some free. Some of the best are free, though: viewing the magnificent ice palace, the parade, fireworks, and exhibits.
Saranac Lake.
For more information, visit
Saranac Lake
.
Railway Historic Society of Northern New York, Inc., Croghan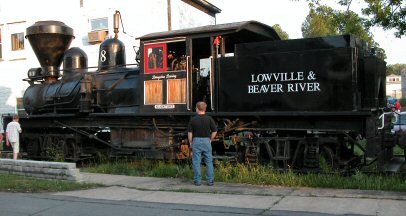 Hidden away in Croghan is a jewel of museum dedicated to historical railroad items and displays. There's also a wonderful old Steam Engine, #8, on display out front.
Main Street, Croghan
Hours: Saturday: 9 am to 5 pm
Sunday: 1 to 4 pm
Other times by appointment
For more info, see
Trains
or call 315.346.6848.
Adirondack Park Visitor Interpretive Center, Newcomb
Whether you want to do some bird-watching, hike on the Visitor Center's wide interpretive trails or try your hand at snowshoeing (the center will even loan you snowshoes), you find all these activities and more at the Newcomb VIC.
5922 State Route 28N, Newcomb
Hours of operation: 9 am to 5 pm daily, except Thanksgiving and Christmas.
Info: Call 518.582.2000 or visit:
VIC
There's also a center at Paul Smiths.
Hours: the building is open from 9 am to 5 pm daily, except Thanksgiving and Christmas. The trails are open dawn to dusk.
8023 State Route 30, Paul Smiths
Info: Call 518,327.3000 or visit
VIC
.
Both centers offer travel info and both offer special events during the year.
Forest Industries Exhibit Hall, Old Forge
Located just outside Old Forge, this attraction has exhibits and displays related to - what else - wood, wood products, and forest management. Be sure to check out the cross-section of an old tree - some of the tree rings are marked with events that happened that year. My husband, son and I visited the exhibit hall, and although my son was afraid that it would be boring, it wasn't. We all enjoyed our visit, and plan to go again.
3183 State Route 28, Old Forge
Town of Webb Historical Association, Old Forge
Who says history is boring? In 1906, Grace Brown and Chester Gillette went for a romantic paddle on Big Moose Lake. Grace and Chester had been seeing each other secretly for some time, and she had just found out that she was pregnant. Chester returned to his hotel alone and Grace was never seen alive again. The event was later the basis of a book, An American Tragedy.
The story of Grace and Chester is just one of the exhibits on display at the Historical Association.
Located on the corner of Gilbert Street and Main Street in Old Forge.
Hours of operation are Tuesday through Saturday, 10 am to 3 pm; also by appointment.
For more information, visit
Historical Association
or call 315.369.3838.