Beerdrinker of the Year 2006 Snags Honors at Wynkoop Brewing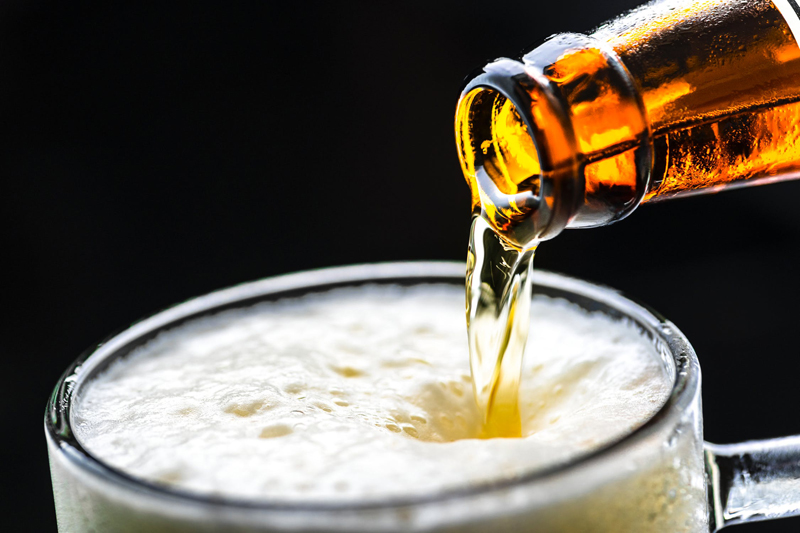 In an impressive display of unflinching guts, intense beer knowledge, quick wit and fiery enthusiasm, Tom Schmidlin, 36, of Seattle Washington, USA delivered the goods that won him the title in the Tenth Annual Beerdrinker of the Year competition in Denver, Colorado on Saturday, February 25, 2006.

In the intimidating, two-hour Finals held at Wynkoop Brewing Company, Schmidlin faced-off against two tough East coast adversaries, Diane Catanzaro, of Norfolk, Virginia and Warren Monteiro, a script writer and playwright from the Big Apple (New York City) in the state of New York.

Catanzaro, a homebrewer, beer judge and professor of industrial and organizational psychology at Christopher Newport University, nearly clinched the title with her parody of the obscure Funkmaster IBU's Pain Relievas hip-hop CD. Sam Calagione of Dogfish Head Craft Brewery is the inimitable Funkmaster IBU.

Warren Monteiro, playwright and scriptwriter, fought for the crown with dramatic theatrics and his first-hand knowledge of European brewing, gathered through extensive beer travels on the other side of the pond. He also did a rendition of Johnny Cash's "I've Been Everywhere, Man", modified to "I've Drank Every Ale, Man" with an outstanding list of ninety-two beers in place of Cash's ninety-two cities.

Neither contestant had enough panache, however, to overcome the passion displayed by Tom Schmidlin. In his past life, Schmidlin was a mechanical engineer and computer programmer. Bitten by the "beer and brewing bug," he became a bona fide "Yeast Dork," fascinated by the complexity of yeast and its role in brewing, and is currently immersed in studies for his doctorate in Biochemistry at the University of Washington.


Throughout the battle, Schmidlin wowed the seven judges with his considerable beeriness. In an extreme attempt to tip the scales in his favor during the Bribe the Judges block, he isolated and cultivated yeast strains from a bottle of Rogue Chocolate Stout, presenting each judge with a personal test tube of proprietary yeast. Adding to his treasure chest of magic, Schmidlin gained considerable points with a vertical tasting of three vintage years of the highly touted, alcohol-slamming, black-as-coal Dogfish Head World Wide Stout. Zzzzing!

During the Beer Whisperings segment of the contest, Schmidlin brought the crowd to tears (of laughter) with his romantic musings to a can of Milwaukee's Best. "I haven't seen you in fifteen years," he cooed. "Oh no, it's not you. It's me. My tastes have changed." Then more earnestly, he continued, "Oh, I suppose if I were really drunk and lonely, I might consider a night with you…"

The competition was not without its hazards. Schmidlin gained over 4 pounds during the course of the two-hour trophy-match by consuming a growler and a half of Wynkoop beer – that's about 96 ounces in dog-years, or 6 pints in an Irish bar – a pretty big sacrifice for the sake of the crown.

"What about the prizes?" you ask.

For his extraordinary display of beer prowess, Schmidlin won free beer for life at Wynkoop Brewing Company; $250 worth of beer at Big Time Brewery & Alehouse, Seattle, Washington – his local watering hole; clothing marking him Beerdrinker of the Year; his name engraved for posterity on the Beerdrinker of the Year trophy at Wynkoop Brewing Company; and world-wide fame. In addition, Big Time Brewery & Alehouse will receive a plaque of honor, engraved with Tom Schmidlin's name and prestigious title.

The 2006 panel of judges was comprised of Don Russell, aka "Joe Sixpack" of the Philadelphia Daily News and "Joe Sixpack's Happy Hour" radio show; Bill Metzger, publisher of the Brewing News brewspapers; Chris Black, proprietor of Falling Rock Taphouse in Denver, Colorado; three previous Beerdrinker of the Year winners John Marioni, Gary Steinel and Ray McCoy; and the winner of The Brewing News "Be a Beerdrinker of the Year Judge" contest, Charlie Dathern of Buffalo, New York. All were dressed appropriately for the solemn occasion – in black robes and white jurist wigs. Intimidating, indeed.

Congratulations, Tom Schmidlin!

Cheers!
 
You Should Also Read:
Reasons to Drink Beer - A Woman's Passion for the Brew
The Magic of Brewer's Yeast
Brewing Up a Business - Dogfish Head Style


Editor's Picks Articles
Top Ten Articles
Previous Features
Site Map





Content copyright © 2022 by Carolyn Smagalski. All rights reserved.
This content was written by Carolyn Smagalski. If you wish to use this content in any manner, you need written permission. Contact Carolyn Smagalski for details.