The Abundance of Marine Life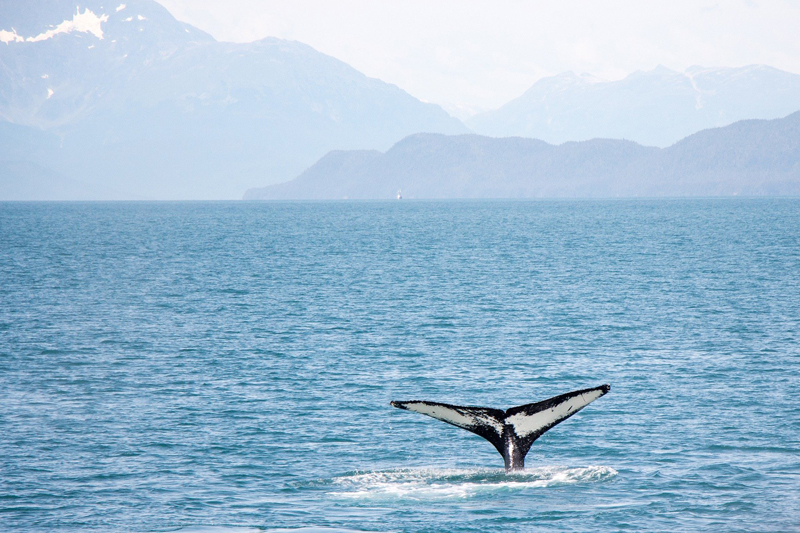 Alaska Marine Life is vast. Certain species make the rounds year after year, to the cold and icy waters of Alaska. But why? It turns out that all marine life needs oxygen as much as we humans do. This includes the microscopic atoms to the largest whales on the continent. Cold water holds more oxygen than warm. It supports more nutrients and the currents keep things moving around to ensure life keeps renewing. It's much like how the butterflies pollenate plants, ensuring the life cycle. Grab some snorkel gear and scour the ocean floor to see starfish, coral and sponge gardens, crabs and much more.
If you are traveling the Inside Passage, there are many types of marine life that you will be able to see. You will hear about the salmon that make the famous run upstream to spawn and die. You will probably have a taste or two as well. The fishing industry is huge in Alaska due to the abundance of the fish and seafood available.
If you are anywhere near glaciers, you will spot sea lions and seals floating along on the icebergs, being lazy. They also give birth on them, so you may be lucky enough to see some little ones. Get too close and they slip off the ice into the water and you'll strain your eyes watching for them to re-surface. This harbor seal was photographed in the icy waters of Disenchantment Bay near Hubbard Glacier.
Whales are a big deal in Alaska. They come up the coast to spend their summers in the cold waters. Getting pictures of breeching whales is the ultimate trophy. Whale tails with the water pouring off is a good second place! Baleen, Gray, Humpback and Beluga are a few of the more commonly known whales that make their summers in Alaska. You really would have a hard time
NOT
seeing a whale on a trip to Alaska.
Killer Whales or Orcas are actually the largest member of the dolphin family. These are the black and white ones that everyone wants to see. Spot them in the distance by their sharp, pointed dorsal fins sticking out of the water. Dolphins and Porpoises are also easy to spot on a trip to the Great Land. Their fins will be more curved than the Orcas. You would have a good idea of what you're looking at by how many you see. The Harbor Porpoise travels alone. Dall's Porpoise travel in groups of six to eight. Dolphins tend to travel in large groups. Sometimes over a hundred can be in one pod. Even the Orcas travel, hunt, and kill in large groups. Another way to tell this group from one another is that porpoises have spade shaped teeth and dolphins have conical shaped teeth. Hopefully you aren't close enough to make that distinction.
Sea and River Otters, Ring Seals, Puffins, and other members of the whale, dolphin and porpoise families can be spotted as well in Alaskan waters. So grab a cruise or a charter, sit back with an Alaskan Amber, and enjoy the marine life Alaska has to offer.
This site needs an editor - click to learn more!


Related Articles
Editor's Picks Articles
Top Ten Articles
Previous Features
Site Map





Content copyright © 2018 by Dawn Engler. All rights reserved.
This content was written by Dawn Engler. If you wish to use this content in any manner, you need written permission. Contact BellaOnline Administration for details.