Whittier Tunnel to Prince William Sound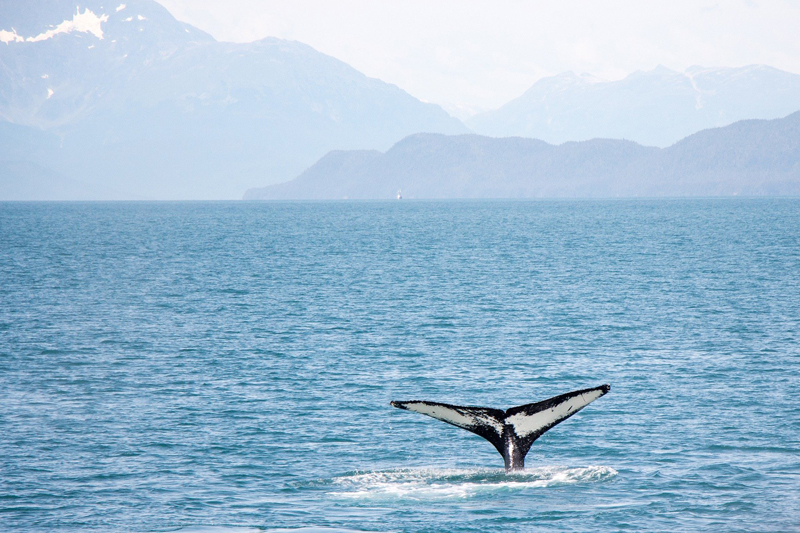 I have traveled to the town of Whittier, Alaska, by way of the Whittier Tunnel several times, always on the Alaska Railroad as part of an Alaska Railroad/Glacier Tour package. It's one of my favorite "go to" packages when family and friends visit us in Alaska.

You can board the AK Railroad passenger train in Anchorage, enjoy the gorgeous ride along Turnagain Arm and through the Whittier Tunnel, where you will be amazed at how close the rough walls of the two and a half-mile-long tunnel, deep in a mountain, passes by your train windows. It was, for me, always a highlight of an altogether delightful trip.

Then I bought a motorhome. If a train can go through the Whittier Tunnel, there was no reason I couldn't just as easily pass through the tunnel in my 27' Winnebago. It sounded like fun and really … RVs go through the tunnel regularly – it's a big tourist attraction. No big deal, right? That was how I felt until the tunnel entrance yawned in front of me.

Yikes. That sure looked like a dark, tiny little hole in a really big mountain. Was my big, ponderous RV really going to FIT? Was I going to scrape the sides? Taking a deep breath, I gathered my fluttering nerves, centered my RV in the narrow roadway shared with inset railroad tracks and drove into the mountain.

Literature says the Whittier Tunnel, which is the longest combined vehicle/train tunnel in North America, takes approximately six minutes at the maximum allowed speed of 25 MPH to travel through. I can say from personal experience that when you are driving it, it seems quite a bit longer. 😉

There is periodic over-head lighting, keeping the tunnel from being completely dark. The very center of the tunnel ceiling is over 20' high, but it curves down to only 15' high at the curbs, making the height restrictions for vehicles understandable. I didn't feel like my 11' high RV was in danger, but that might have been because I was following a much taller Class A motorhome.

Although my 8'5" wide Winnebago really did have plenty of space to either side as I drove through the tunnel, it didn't feel like it at the time and I was constantly checking my mirrors to make sure I was centered. It is only a single lane roadway, with traffic going one direction at a time, trading out on the half hour. The max allowed width of vehicles traveling in the tunnel is 10' (excluding mirrors), max height is 14' high and max overall length is 80' from bumper to bumper (including boat or towed vehicle).

Driving through the Whittier Tunnel was quite the adventure and since the destination is such a beautiful one, it's an adventure I will likely undertake again – probably with less hesitancy next time. If you think making the drive would be too intimidating (I hope you don't – it's well worth it), go ahead and take the train – this is an Alaskan adventure you really shouldn't miss out on.

As you exit the tunnel into Whittier, the view is staggering. You immediately have a panoramic view of the ocean, mountains, waterfalls and glaciers. Within minutes, you'll see the harbor and small hamlet of Whittier.

Whittier is accessible only by way of the tunnel or by boat and has a current year-round population of about 200. The town was established during the WW2 era, due to its year-round open water harbor and protected location.

These days, this deep-water harbor is also a regular docking point for a multitude of huge, Alaska-bound cruise ships, where tourists decamp the ships and catch busses or the Alaska Railroad to head for Anchorage and beyond. Tourists are often surprised to find themselves, within just minutes, disappearing into the black hole in the mountain that is the Whittier Tunnel. What a great way to start the next leg of their Alaskan adventure!



Related Articles
Editor's Picks Articles
Top Ten Articles
Previous Features
Site Map





Content copyright © 2023 by Deb Frost. All rights reserved.
This content was written by Deb Frost. If you wish to use this content in any manner, you need written permission. Contact Deb Frost for details.