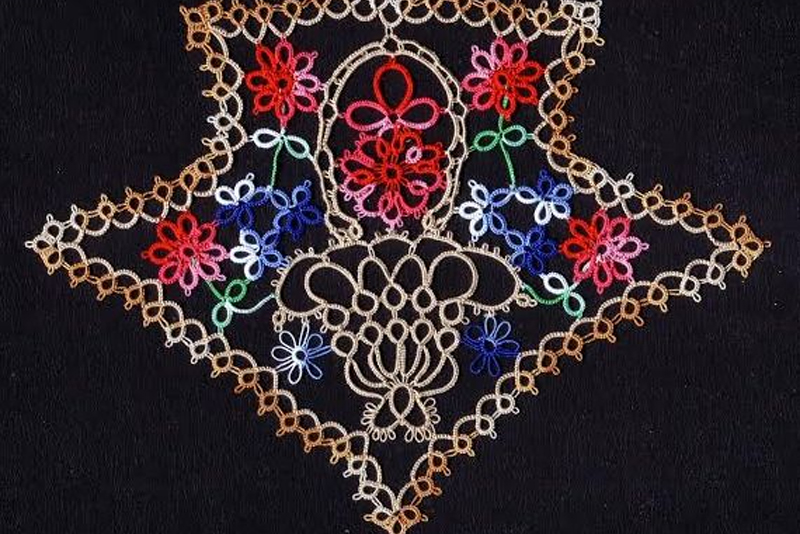 Rachel Mohler just added a new.....er....old.... hmmm, antique! tatting shuttle to her collection. This is a metal Boye shuttle with removable bobbin on a retractable arm from the early 1900's. She shared a photo with us.
This unusual shuttle was an "improvement" over early styles. Two-bladed shuttles on a center post are the classic style, however, the metal "netting" needle style and flat shuttles of wood, bone, ivory etc. were used, too. In the photo below from Weldon's Practical Tatting First Series, a two-bladed shuttle is pictured. Unfortunately, the tips of the blades do not touch. This open-ended style is a carryover from shuttles which were used for knotting. Those shuttles had open ends and were much larger.
Rapidly the style changed to a shuttle that was petite in size to accommodate the fine threads used in tatting and the points of the blades touched. An illustration from Weldon's 11th edition shows the change.
The applications of celluloid, "French ivory" and later plastic created an vast array of colors and materials for shuttles. The following three photos were sent to me for help in identifying them. The first is an art deco glitzy shuttle and the second is but one of mixed color shuttles, but I do not know their history.
Although I personally prefer a wooden shuttle, there are many plastic shuttles available today. The petite ivory-colored shuttle in the birthday card for Myrtle Hamilton photo below is an import from Germany, It also comes in blue. A slightly larger and thicker shuttle in faux-tortoise shell is a similar shape but the point are so tight it takes a while to become comfortable with them.
These two plastic shuttles are very light weight and are imports from the UK. They are pictured inside a metal tea cup storage box with the blue willow pattern on top of Pam Palmer's Book with the Blue Willow tatted picture.
I also offer hand-crafted wooden shuttles. I hope you will enjoy seeing a few of them (none for sale at this time.) I have often arranged a little photo shoot to highlight the features of each shuttle.
Seitz shuttle with blue holographic laminate. This rainbow effect with the tiny glittering stars was one of my favorites.
This photo surprises some tatters. But, yes! Men tat also. The back of this wooden shuttle carries the motto, "Hooked on Tatting!"
Tatters are well known for loving chocolates, so a gift box for candy seemed like a great container. Included with the white wooden shuttle with the yellow rose design to match the hanky and thread is one of the German faux-tortoise shell shuttles.
The black and red skinny shuttles are designed for tatting with Celtic weavings. The flat cat is a popular shuttle. The flat hat shaped shuttle represents several different flat styles tailored to specific tatting events. This hat was made for the Palmetto Tatting Guild Lace Event "Hats Off to Tatting!"
This white shuttle with the pink rose is just one of many shuttles that have been auctioned off for charity and scholarship fundraising.
You Should Also Read:
Top Ten Tatting Books
Changing Tatting Shuttles Styles
Plastic Tatting Shuttles


Related Articles
Editor's Picks Articles
Top Ten Articles
Previous Features
Site Map





Content copyright © 2023 by Georgia Seitz. All rights reserved.
This content was written by Georgia Seitz. If you wish to use this content in any manner, you need written permission. Contact Georgia Seitz for details.