Misting Systems for Orchids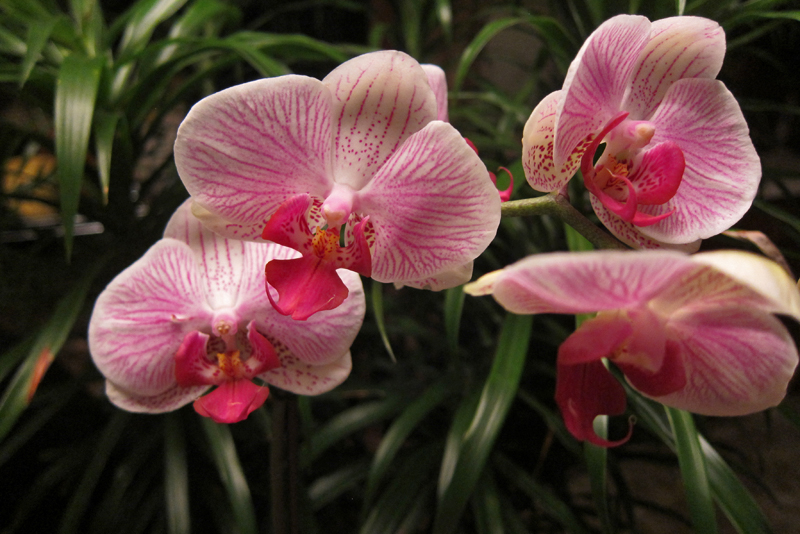 Now is a good time of year to start thinking about misting systems for growing your orchids outdoors or in a greenhouse. In general misting systems are used to increase humidity in growing areas and to cool down the air around your plants. They can be used on outdoor patios very effectively for people as well as plants.
Self Contained System
Misting systems come in many shapes and varieties, but we're going to cover only the two most economical and easy to install. The first is powered by an electric pump and initiated by a timer system. These are really only suitable for small greenhouses. The pumps, ranging anywhere from 50 psi (pounds per square inch) to 150 psi are connected to a reservoir of some kind and pump the water into lines connected to spray nozzles. This type of setup is often sold as a kit and the only good ones I've found have been designed for reptile breeders and hobbyists. The only one I could find when I looked recently was
Big Apple Herpetological
. Their kit includes pump, timer, reservoir lines and nozzles. I purchased a similar system two years ago and was happy with the results it brings. The nozzles can be mounted either under benches or on the roof to cool and humidify. The only problem I have had is that the reservoir was too small at 2 gallons, so I replaced it with a 5 gallon plastic paint bucket. As far as timing, I use a five minute spraying period every 15 minutes during the middle of the summer starting at noon and running until 5:30 pm. In combination with the mister I use several fans and have found that the plants will dry before dark since the last spraying is at 5:30. It is extremely important to have the plants dry at night or they will almost certainly develop all kinds of molds.
Water Pressure System
The second type of mister is that which is attached directly to a water hose and uses the pressure from the hose to power the mister. These systems can be purchased at almost any hardware store in the US. The advantage is that no motor is required to power the system; the disadvantage is that you cannot control the quality of the water. If you have hard water, as we do in our part of Texas, the constant wetting and drying caused by misting will deposit minerals on the leaves of your plants and will eventually clog the nozzles. This is a less expensive alternative for most people if there is a handy water source and the quality of your water is good. A timer attached to the water source is used to control the water flow. A friend of mine uses this kind of misting system mounted above her Vandas on a second story balcony and has some of the prettiest growing orchids you've every seen. They love it!
Misting is a very effective and inexpensive way to reduce heat in a greenhouse or outdoor growing area and to increase humidity to give your orchids the environment they need to grow well. Small systems can be used indoors in an enclosed environment such as a terrarium too.
You Should Also Read:
Light Meters and Hygrometers
Orchid Growing Tips #8
Growing Orchids in a Terrarium or Wardian Case


Related Articles
Editor's Picks Articles
Top Ten Articles
Previous Features
Site Map





Content copyright © 2021 by Susan Taylor. All rights reserved.
This content was written by Susan Taylor. If you wish to use this content in any manner, you need written permission. Contact Anu Dharmani for details.