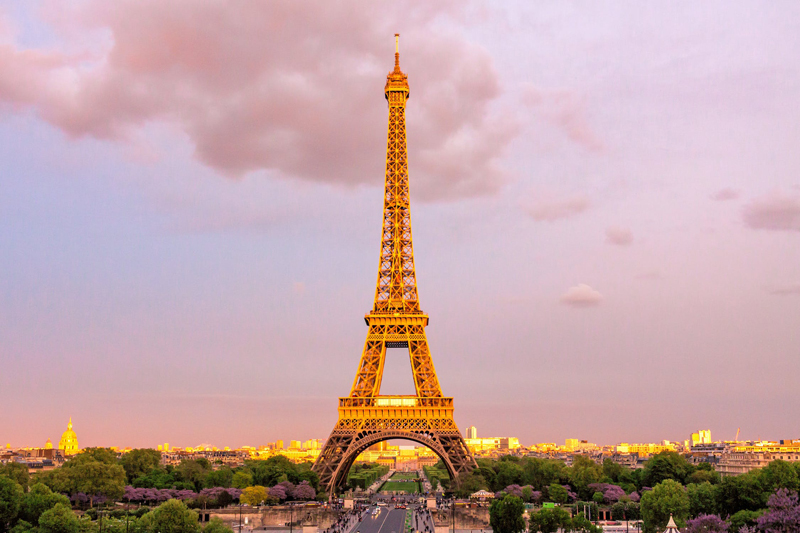 Leaving behind ten hour workdays wasn't the hard part, nor was auctioning off a lifetime's worth of belongings. Bidding adieu to green Austin and the sunny personalities who inhabit it proved a bit more challenging. With a month to wean myself from its embrace, I packed my life's contents into four cardboard boxes and one worn suitcase. Stéphane was anxiously awaiting my arrival on the other side of the ocean.

The gardens surrounding his father's countryside manor were in sharp contrast to the shoebox apartments that line Paris rues. I settled into an upstairs bedroom overlooking hydrangea bushes and the flaccid arms of a well-established weeping willow. Dressing the small bed with my favourite duvet gave me confidence knowing that on cold nights I could nestle beneath a feathery nest. I lined the pine bookshelves with an arsenal of paperback novels and committed myself to finishing my untouched French primer before dislodging the others.

Surrounded by family, we passed the first few weeks enjoying fete upon soirée, eating picnic lunches beneath green canopies, sipping sweet summer rosé, tossing pétanque balls and thoroughly enjoying the company with which we mingled.

It took a while for the initial excitement to wear off, but slowly vacations ended and work schedules were resumed. Suddenly I was alone. The silence of the deserted house was a stark contrast to the companionship I had experienced during luxurious summer days. It wasn't until that moment that panic struck. Sure, I had some high school French under my belt. I knew enough to stumble through "Je m'appelle Melissa" and a few other pleasantries, "Je ne parle pas Francais" not excluded. However, my poor command couldn't assist me in the mundane task of ordering petit dejeuner. How could I exist in a world where I was unable to communicate?

While sipping cappuccino from a miniscule tasse, I stretched my legs, heels dangling over the edge of the plastic recliner, and set to work, my job being to digest as much as possible from the pages of a book entitled "Learn French in 10 Minutes a Day."

After finishing the first page, I learned that one simple question was the cornerstone to learning the French language. Simply point to a desired item and demand with the gumption of a five year old child, "Qu'est-ce que c'est?" You'll be rewarded with the corresponding name, the trick being to remember that magic mot.

Also, to my delight, I began to notice that a plethora of French words seemed to be built from the same foundation as those in English, the book calling these "free mots." When in doubt, it seemed a wise strategy to "frenchify" my existing vocabulary, this achieved by nonchalantly dropping the last sound while adding your best Cordon Bleu accent. Surprisingly enough, this trick works more often than not when applied to nouns. However, the many tenses and conjugations of French verbs refuse cooperate in such a manner.

Living in isolation, no matter how glorious the jardin, proved tiresome after a few days. With a dear friend's birthday nearing, I though the post office a perfect diversion. After scribbling my lines on a tear of paper, I rehearsed them during my entire bicycle ride up the hilltop. Breathlessly, I mumbled, "Je voudrais envoyer ceci, s'il vous plait. " I approached the counter with confidence, despite my racing heart, and made my simple request. It was greeted with, "Where would you like to send it?" in English plain as day.

After inhabiting France for nearly a year now, my comfort level has increased along with my vocabulary. I find conversing with strangers less daunting. As situations demand more, phrases roll off my tongue as if spoken by another.

The diversity of Paris' population provides the necessary contrast for a novice. In the course of a week, I've heard "Vous parlez tres mal" from a haughty dress shop saleswoman, countered by the neighbourhood boulanger who insists that I speak très bien francais. Effort is appreciated and, often enough, rewarded with an answer in English, but I'll continue to study the language until I speak French comme le francais.





Related Articles
Editor's Picks Articles
Top Ten Articles
Previous Features
Site Map





Content copyright © 2023 by Melissa Demiguel. All rights reserved.
This content was written by Melissa Demiguel. If you wish to use this content in any manner, you need written permission. Contact Melissa Demiguel for details.