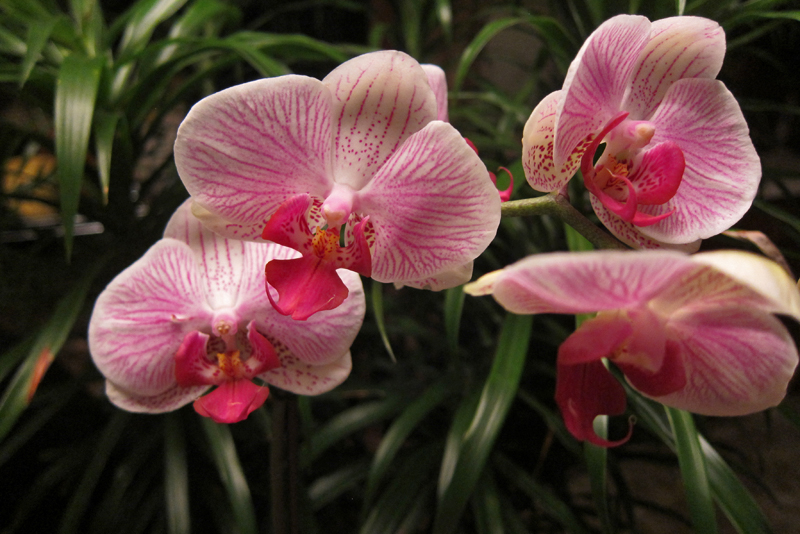 Taking your orchids to a show is a natural extension of growing orchids. You have beautiful plants and wish to show them off and perhaps get them noticed by the judges. It is human nature to do so!

Getting ready starts with preparing your plants at home. Stake the inflorescences as they grow so that the flowers will be well presented and then do the final staking just before the show so the flower is facing forward. Clean the leaves of the plant several days in advance with lemon juice to dissolve any mineral residue. I use mayonnaise on the leaves to make them shine just before taking the plants to the show. When you do this, be sure that the plants are not in direct sunlight or the leaves might burn. Take off any dead leaves; pull back and discard sheaths; clip off any brown leaf ends.

The first step for most novices is bringing in plants for an organization exhibit -- like a society exhibit. This involves simply bringing in a plant and then working with those in charge of the exhibit. This is valuable experience and allows you to move on to the next step, an individual exhibit.

Exhibiting can be a lot of work as well as fun, so be prepared. Most exhibitors start out doing a tabletop exhibit -- generally an 8 foot x 4 foot table. The minimum number of plants is five for an individual exhibit and most growers can accommodate this number. You can also purchase plants to include in your exhibit if necessary. A good way to start is to plan to go in with another grower for your exhibit. This way you will have more plants and can spread the work and the cost of materials.

One of the first things you will need is a backdrop. These are normally homemade and covered in black fabric which is the best color to bring out the colors in orchid flowers. Generally they are 4 feet high and just under the 8-foot length of the table with two 4-foot square wings to stabilize the backdrop. The effect is a three-sided box around the sides and back of the exhibit. Use plastic drink crates to make different layers and heights in the exhibit for interest. Cover everything with additional black cloth using it to hide pots and give a soft feeling to the floor of the exhibit. As a finishing touch use either coconut fiber or Spanish moss to break up the dark background and make the whole effect more natural. Look at the other exhibits to get ideas and a feel for what you like and don't like.

Foliage to use between and around the orchid plants should be chosen to complement, not overwhelm, the plants. Use variegated foliage sparingly. Ferns and palms are good choices since their foliage is light and airy feeling. Accessories are also important. Some will be natural such as driftwood or interesting pieces of wood or rock. Some can be orchid-related items such as plates or other items with orchids on them. No other kind of flower can be included in the exhibit, so be very careful in what you choose and remember that it is the orchids that are on display, not the decorative items.

You Should Also Read:
Orchid Name Tags
OrchidWiz Encyclopedia v 2.0
Exhibiting your orchids at Orchid Meetings


Related Articles
Editor's Picks Articles
Top Ten Articles
Previous Features
Site Map





Content copyright © 2023 by Susan Taylor. All rights reserved.
This content was written by Susan Taylor. If you wish to use this content in any manner, you need written permission. Contact Anu Dharmani for details.