Guest Author - Deborah Adams
War Eagle Mill
at
www.wareaglemill.com
is the place to get many great flours, meals, mixes and other products for your kitchen and as gifts. This company offers great quality products from with a working water powered grist mill. Some of the products I've had the pleasure of trying include: Organic
Blue Cornmeal
,
Barley Flour
and
Blue Cornmeal Pancake Mix
.
I had several people taste test the products and all received two thumbs up. We fixed the Blue Cornmeal Pancakes and the texture of the pancakes are great! The fact that all the products made in the grill are from
Certified Organic Grains
makes them a plus.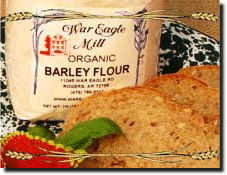 The Barley Flour made great pancakes as well and each of these products came in bags that included recipes on the back and some had them on the front too. They say that barley has been found to contain a cholesterol suppressing substance higher in quantity than oats. Maybe it's time this ancient cereal grain became more widely known.
The Organic Blue Cornmeal comes with a Blue Buttermilk Cornbread recipe. Each product was quality and they take great care to package and get them to the customers quickly. The texture and body of the mill products are great! You really need to try them to see the difference in these and the average store bought products. A major difference and quality.
Blue corn as you may or may not know was a staple of the Indian people throughout history. Read more about that here.
www.bellaonline.com/articles/art43287
You can read more about the history of the War Eagle Mill here:
www.wareaglemill.com/history
They also feature a restaurant called the Bean Palace and it's bound to be a place to make sure you visit with all the good food they serve there. Read more about it also here:
www.wareaglemill.com/beanpalace.htm
Some of the other items offered include:
Flours and Meals (many kinds including spelt, rice, wheat, corn, barley, rye, buckwheat, millet, soy, wheat bran, oat bran, and more!)
Gourmet Whole Grain Mixes
Arkansas Sweet
Cereals & Whole Grains
Gift Boxes
Bread Mixes
War Eagle Cookbooks
Graniteware
Fish Mix, Soups and More!
Special Items
Recipes
Salad Dressings!
Arkansas Spice
Kids Stuff!
Tee Shirts
Kitchenwares!
Not only do they offer these wonderful products but they also have Seminars, Egg hunts, Antique and Craft Shows and many other events. Don't miss a visit to the
War Eagle Mill
or check them out online at
www.wareaglemill.com
.