Arts de la Rue - France's Street Arts Festivals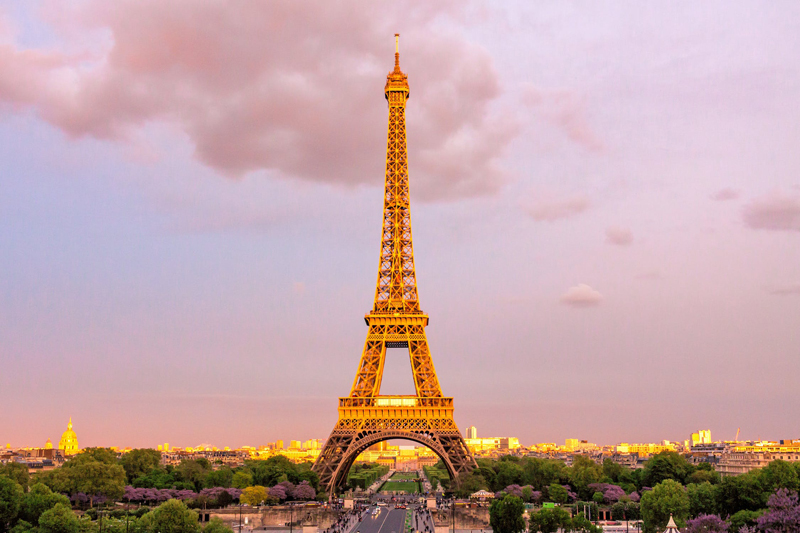 Look carefully at the posters that wallpaper metro walls and encircle light polls and you may find an invitation to participate in one of my favorite festivals of the year, Arts de la Rue. Here acrobats, dancers, dreamers, musicians and theatre troupes from all walks of Europe join forces. These free street arts festivals more closely resemble extended dream sequences than any other legal form of entertainment. No two are ever the same.
As night lit the color of fire fell on a warm Friday evening, the company Malabar payed homage to The Odyssey. An eerie new age soundtrack accompanied the operatic wailings of a woman in a glittery mop of a wig and a muumuu. Another in corset and heavy makeup danced provocatively atop a cage of pig-women. Young Roman foot soldiers pulled a giant eyeball behind a four-headed dragon that spouted water into last-story apartment windows. And warriors on springy stilts bounded over brick walls with flares spitting smoke and fire. With that, another year's festival kicked off in the cobbled streets of Nanterre Ville.
On Saturday and Sunday troupes gathered outside the park to advertise approaching shows on billboards. I noticed a bicycle with a sink mounted where my basket sits. "Do you want to wash your hands?" he asked with his assortment of pastel soaps presented on a tray, a sign "Lave les Mains" around his neck. Men in wetsuits balanced atop one another's shoulders, goggles but no water. A trio wearing white jumpsuits and hardhats patroled the park, flowers tucked inot their utility belts. Tickets were written for spectators who walked too fast. Follow your whim, be distracted. Don't rush about with your nose in the program or you'll miss the most colourful characters.
Large squares of waffle doused in whipped cream or dipped in chocolate are sold but the children prefer barb a papa, as the French call cotton candy, in purple and pink clouds.
Fantastic hats of flowers and spirals were created in the make-shift workshop of a shady square. Twisting long paper bread sacks he made the chapeaux magiques, an army of hats that resembled many a Dr Seuss character.
Leaving the fest, I encountered a strange troupe of musicians wearing long orange hoop skirts over stilted legs. Their dusty jackets were adorned in brass door handle buckles and armoured plates while triangles of lamps dangled above their heads. One by one they explored the audience like timid aliens, shining their lights into people's faces or releasing handfuls of glittery fairy dust into the air. They played their horns like ducks squawking and moved quickly towards children in the crowd sending legs kicking violently from stroller seats. They played hypnotic melodies from horn and accordion and I followed them back in like a child behind the Pied Piper because it happens but once a year, these parades. Along the way I ran into some walking TVs.
Waiting on the hillside for the last show, a troupe of commando poets mingled into the crowd. Dressed in black from head to toe, wearing top hats or waving fans they whispered poems, like secrets, into attentive ears. Les Souffleurs list appearing and disappearing as some of their talents and use jubilation to combat conventionalism. In the shade of his black umbrella a tale was spun like a spider's web of stars and arms, of life. I closed my eyes to listen as he painted a smile on my lips.
The street arts festivals demonstrate existence of the surreal in the hearts of the French, and I ensure that I'm a part of these rêves with each chance I get. Exiting the park I waved adieu to the Cirque Fusion, the acrobats overhead and creatures that wore bat wings for legs, knowing that I would have to wait another year to experience the magic of a weekend such as this.
The festivals are scattered throughout France when season provides suitable weather. Indulge yourself if opportunity to experience Arts de la Rue presents itself.
You Should Also Read:
Arts de la Rue


Related Articles
Editor's Picks Articles
Top Ten Articles
Previous Features
Site Map





Content copyright © 2022 by Melissa Demiguel. All rights reserved.
This content was written by Melissa Demiguel. If you wish to use this content in any manner, you need written permission. Contact Melissa Demiguel for details.