In academia, a rubric is a scoring tool that identifies criteria related to a particular assignment or learning objective. It is what both teachers and students use to ascertain the requirements for meeting a particular grade expectation. Rubrics can also be used to measure school programs by comparing results between institutions. Whether measuring learning successes among students in one institution or between competing institutional programs, rubrics are a fast and easy way to determine results at a glance.
Learning expectations are the basic foundation used to establish a rubric. As an example, let's develop a rubric that will measure the learning objectives of a Photoshop and Design Techniques course. The table below is an example of how a rubric can be used to measure particular learning successes. The first column, labeled "Expectations," represents the learning objectives to be measured and how much of the percentage of students' final grade is determined by each one. The columns labeled Grade A, Grade B, Grade C, and so forth are used to measure the outcome of each learning objective based on the assignment provided. Students can use the rubric to help pinpoint vital course objectives, which will ultimately help them achieve the highest grade possible, and teachers can determine areas of weakness that they can modify to improve their teaching strategies. Below is a sample rubric for a Photoshop and Design Techniques course.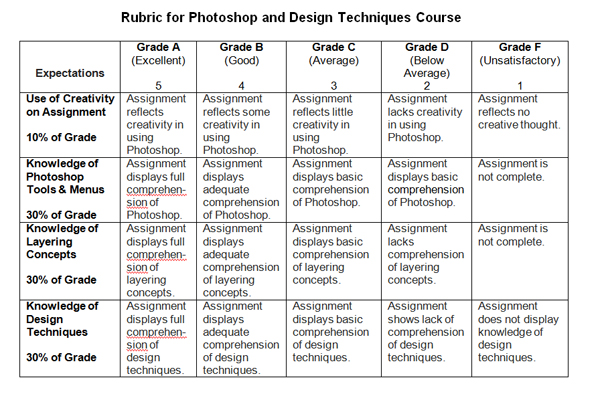 Follow Me on
Twitter
or visit my Distance Learning Facebook page
Facebook
Distance Learning - Is it Right for You?
is available in paperback and ebook at
Amazon.com
, or pdf version on
BellaOnline eBook Store
.
Libraries and Academic Institutions
please visit
Distance Learning Books
for discounts on bulk orders.
+Patricia Pedraza-Nafziger