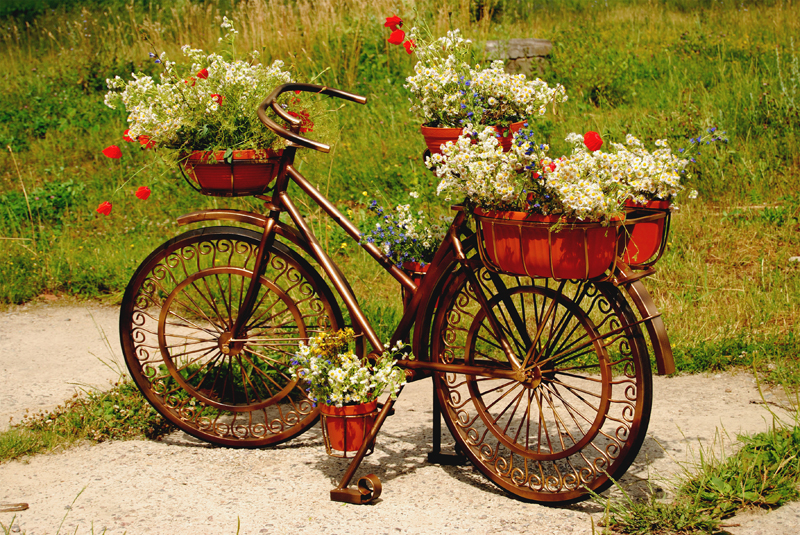 There is nothing nicer that reaching over to 'your' home-grown herb garden and plucking a good bunch of whatever you need and when it comes to Basil, then the smile on your face is just spontaneous. What a really great choice you made that day at the garden centre!

Basil goes with all sorts of other foods both savoury and sweet and one of the sweeties is a strawberry. You do remember the difference between using fresh and dried versions of herbs? Yes? Well as a reminder, just think of the maxim FRESH LESS DRIED MORE and all will be well. Generally it's a 3 to 1 measure as in three measures of the dried herb equals one measure the fresh herb (and that goes for your own dried herbs as well, not only the store bought ones). It won't matter much if you make a mistake though; but it may just mean that you will not get the full flavour that you seek and the next time you prepare the dish your cooking will remind you. Get the kids to make you a 'fridge magnet with this message … 'fresh less dried more'.

Below are four favoured recipes for this fine herb, all tried and tested, all found to be true and all definitely on the yum list of family and dinner-party fare. Try them, they are not too time consuming, it's a nice mix and they may give you something to think about like "I just have to grow more Basil."

FAWLTY TOWERS COCKTAIL
Add Vodka to taste for an alcoholic kick – very popular with adults I hear.

Take 15 or so frozen strawberries and blend them at high speed with a 500ml plus bottle of lemonade or Sprite. Add a 'nice' squeeze of fresh lemon juice and about 5 sweet fresh strawberries, pulse a couple of times then add 10½ fresh basil leaves from your container and pulse again (okay, 6-8 leaves will work as well!) If the cocktail is too thick just add some iced water (or more lemonade) to taste or crushed ice to melt. Serve in a martini style glass, and garnish with a sugared strawberry and a fresh basil leaf or two. Short straw anyone? Delish around the pool on a hot day and a really nice sophisticated drink for old-fashioned tweenies and teens. It's sweet.

BASIL AND STRAWBERRY FOOL
Hardly worth mentioning as a special recipe but it's one of those quickies that everybody needs in their cooking repertoire. And maybe someone has not tried making this before?

Depending on how many servings you need, take 6 – 10 fresh crushed basil leaves and mix with 3 cups of small sweet squashed ripe strawberries. In a separate bowl crush 5 or so meringues into chewable bits and mix with 250 mls firm freshly whipped cream. Gently add the two mixtures together leaving whole bits of meringue and whole bits of strawberries. Serve this tasty mush in pretty glasses garnished with a fresh sugared strawberry or two. I have yet to meet anyone who doesn't like this foolish dish! As rich as it seems it's light on the tummy. These measures will serve 2-4 people depending on the hunger meter!

BASIL PESTO - SWEET
Pour scroogily over everyone else's portion of vanilla ice cream or frozen yoghurt.

Take 2 cups or so of fresh sweet Basil leaves, 2 cups of small sweet strawberries or blackberries or mulberries or youngberries, around 3 tablespoons of ground almonds or walnuts, 1 heaped tablespoon caster sugar and 1 - 2 cups of basil infused now cooled water. Blend all together and adjust to taste (add more water for a more runny pesto or more sugar to sweeten). I do not like this pesto oversweet and I add around 8 fresh pieces of whole fruit (strawberries or whichever fruit I used) before serving, garnished with a couple of fresh basil leaves. Scrumptious.

BASIL PESTO - SAVOURY
Use liberally to taste over your portion of your favourite pasta or baked potato.

Take 2 cups or so of fresh chopped Basil leaves, about a ½ cup of your best olive oil, one big half packet of toasted pine nuts (or use a 'phat' handful of walnuts). Puree these ingredients in your blender or use a pestle and mortar (with the 2 cloves worth of crushed garlic if you choose to). Pour this puree into your serving bowl and add a ½ cup 'good' home-grated parmesan cheese (use Pecorino if you are stuck …) but not the store bought packets of sawdust people sometimes sell as grated parmesan. Add salt to taste and mix well. I do not add garlic to my pesto but that's just a matter of taste. This recipe freezes nicely so I often make lots on drippy afternoons to freeze in portions.

You can also add chopped concasse of tomato as a colourful garnish – looks good and tastes great. Concasse? Just peeled and deseeded diced firm fresh tomato flesh.

What else can you do with Basil?

You can chop it up roughly and freeze it ice-trays (as with other herbs too) for drinks and soups and stocks;
You can grow several little pots and place them near your books or on the kitchen window sill. Using fingers, squeezily crush leaves to release oils to chase away fish moths and flies and some say mozzies;
You can take some leaves and rub them along your arms as a 'miggie' deterrent. What's a 'miggie?' It's an annoying little flying thing that frequents picnic and barbecue sites and that is like a mosquito without a mosquito's bite.
You can make an infusion by pouring boiling water over a half a cup of fresh leaves, waiting for 10 minutes then sipping slowly. Basil tea is good for all sorts of things including migraines and general tiredness I hear.
You can give some away, swap it or use it as a bribe for when you need to get a slip or cutting of your favourite cactus or flower or vege or herb or, well you know, whatever it is that you may want from your neighbour's garden.
It's a good companion plant to grow near or together with your tomatoes (it adds flavour);
You can add basil leaves to homemade pest repellents that you can use against aphid and whitefly;
You can make nice herb vinegar with white balsamic vinegar; you can add it to a bottle of olive oil for flavour along with other herbs;
You can use it in your béchamel sauce stock starter and finally,
You can add 10 or so chopped leaves to your bath (and no you won't smell like a pesto!)

It goes without saying that you do not use commercial pesticides and poisonous sprays on your containers and if you you do, then of course you can't eat anything from those plants.

What do you want your container garden to do?



Related Articles
Editor's Picks Articles
Top Ten Articles
Previous Features
Site Map





Content copyright © 2023 by Lestie Mulholland. All rights reserved.
This content was written by Lestie Mulholland. If you wish to use this content in any manner, you need written permission. Contact Lestie Mulholland for details.