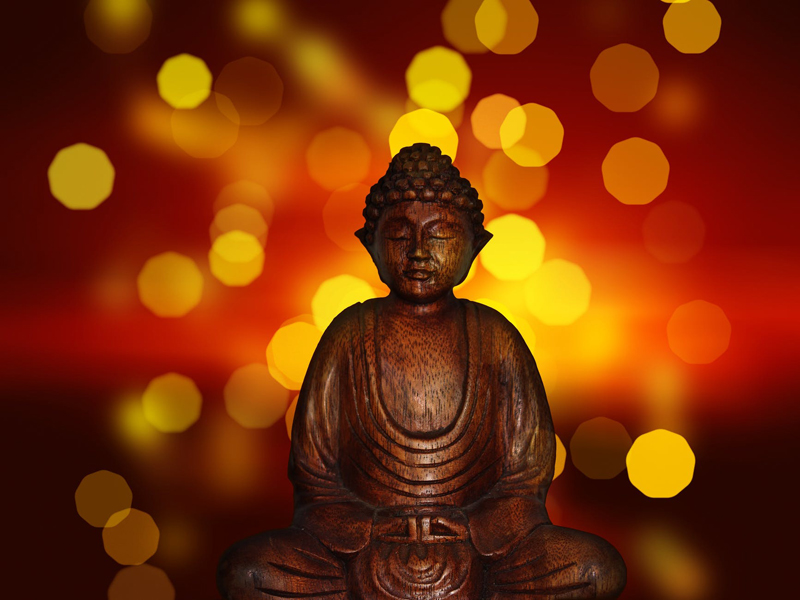 When I went to set up the game the first thing I noticed was the beauty and amazing detail. The board comes in 5 pieces and when assembled is a bit larger the your average game, so a little bit more space is needed to play. There are 6 stacks of cards one stack for each realms except the God realm and the Hell realm and one each for the Spiritual and the Subtle path. You are represented by one of the 10 colorful wood beings that come with the game.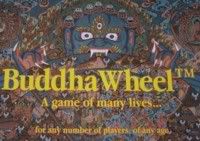 The first game I played, I played with my mom and a family friend. Neither one of them are Buddhist and their knowledge of Buddhism is rather limited. At first they found the concept of being reborn many times in different realms a bit confusing. So we spent some time discussing each realm and the journey to enlightenment. They found the short explanation of the game board and the wheel of life that is included at the beginning of the directions, most helpful. As the game progressed they started to understand rebirth and the different realms and how the cards related to where the next rebirth would take place.
Each player throws the die to determine where he or she will take their first birth. I rolled a 2 and I took my first birth as a Hungry Ghost and my second and my third rebirths. Needless to say I was caught up in a cycle of greed that I found hard to escape. After a while I was able to make it out of the lower realms and into the human realm and then eventually I managed to head onto the spiritual path before we became tired and we had to call it a night. We enjoyed teasing each other about who fit each karma card best, and had a good time playing.
Next, I took the game to a friends house (also Buddhist) and played the game with her and her 5 year old son. After a couple of births the 5 year-old decided that he would rather go play with the other kids. Since it is easy for players to come and go there was no disruption in play.
We both agreed that the board was beautiful and that it is a great game. The cards where extremely insightful and relate to everyday problems that arise. This helps to make the game relevant to everyday life and, of course, the cards are a great conversation starters.
While the game might seem complex at first it is really a simple game to play. Since there are pictures on the cards and board that show where the next birth with take place a non-reader, while not able to read the entire card, will be able tell where his or her next birth will be, giving them more independence in playing then most games. This game would make a wonderful addition to any home game collection and would be great for game night.
Buddha Wheel...A Game of Many Lives...
You Should Also Read:
Buddha Wheel e-mail group
Buddha Wheel website
Q&A with Emily Preece Creator of Buddha Wheel


Related Articles
Editor's Picks Articles
Top Ten Articles
Previous Features
Site Map



Follow @mommymystic
Tweet



Content copyright © 2022 by Samten Tsomo. All rights reserved.
This content was written by Samten Tsomo. If you wish to use this content in any manner, you need written permission. Contact Lisa Erickson for details.