Exhibit Your Orchids in the Home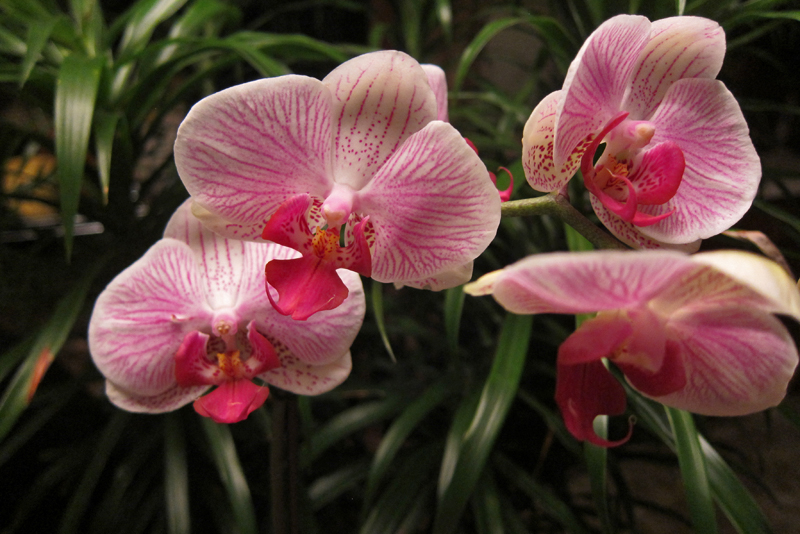 All of us who have orchids want to be able to display them in our homes for our enjoyment and to show them off to friends and family. This need to exhibit makes it necessary to work with what the orchids need and what needs to be done to show them off at their best within our homes.
The first problem is the need for orchids to have adequate air around their roots -- this is one of the easiest problems to solve. There are special orchid pots designed with aeration holes already built into them for this purpose. For formal displays, the oriental
glazed pots
with attached saucers provide a very good looking alternative.
Another choice is to use a
Cachepot
(literally translated from the French as "hide pot"). This is a larger pot into which your orchid growing pot is placed for display during its flowering season. Generally the display with this is finished off with some kind of moss and if necessary a decorative stake. The advantage of the cachepot is that it can be used with a number of different orchids rather than the single use of the traditional orchid pot.
Beautiful Orchids
has a wonderful gallery of nicely presented orchids to give you some ideas. Our sweepstakes sponsor,
1-888-Orchids
also has a nice selection of Phals displayed in pots, baskets and containers to give you ideas. Be sure to clean the pots carefully by soaking in bleach between uses so that you do not transmit diseases or viruses between plants. For a more informal and modern look, there is something called Crack Pots. These are opaque plastic pots in a variety of colors with holes in the sides to provide the necessary aeration that your orchids need.
The second main problem is to provide enough humidity in the home environment to keep the orchids happy during their blooming and showing off period when you will have them away from their normal growing spot.
Humidity trays
come in a number of varieties and some are quite decorative. I use a black plastic tray that originally was from a caterer with white gravel in it. I then place a clear plastic saucer with more gravel in the middle with the orchid pot on top of it. Water is put in the outer section so that the plant is not sitting in water. As the water evaporates, humidity is released around the plant. I can use this setup almost anywhere in my house to display an especially pretty blooming plant.
In order to best present your plant, remove all dead sheaths, spray and clean the leaves and stake the inflorescences with appropriate staking. Use something interesting such as one of those curly twigs that can be purchased at flower shops for an especially interesting effect. Be sure to place your plant in a place of honor which has adequate light from windows.
You Should Also Read:
Beginner Orchids
Orchid Growing Tips #10
Orchid Name Tags


Related Articles
Editor's Picks Articles
Top Ten Articles
Previous Features
Site Map





Content copyright © 2023 by Susan Taylor. All rights reserved.
This content was written by Susan Taylor. If you wish to use this content in any manner, you need written permission. Contact Anu Dharmani for details.