Testing for hearing loss in babies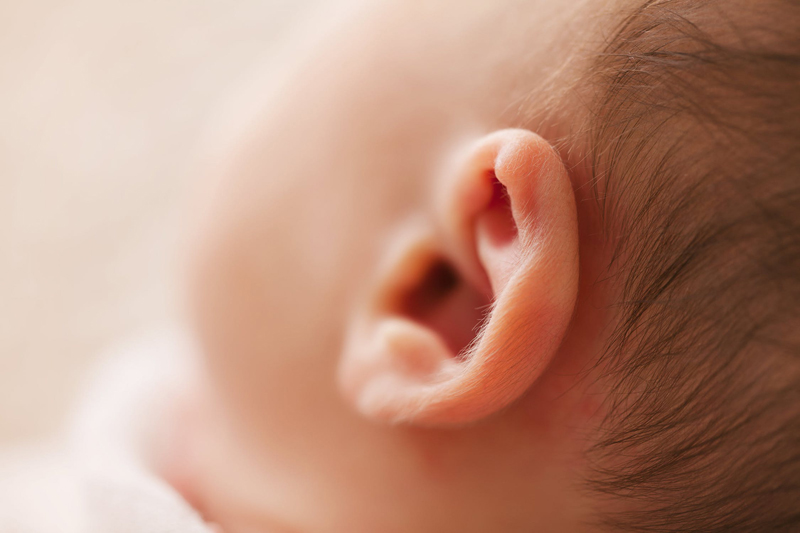 In times past it has been common for hearing loss in babies to go unrecognised until they were two or three years old. This failure to diagnose during the critical development stage of hearing and speech means many children did not gain good speech skills and this can have ramifications for their whole life – difficulties which the experts say are hard to overcome. According to the Australian Prescriber(3), early detection leads to better outcomes in terms of language development and education.
Health care providers have recognised this and many hospitals provide hearing loss screening for newborns. In California(1) the John Muir hospital has introduced a program to provide screening for all babies. The early detection means remedial action can be put in place immediately and the infant stands a better chance of developing good speech reducing the time of speech therapy even with a limited amount of hearing. Around 65% of newborns in the USA are screened for a hearing loss and in other countries this may be even less. Some hospitals have an 'at risk' screening system. This means babies who have certain health problems or have a history of deafness in their families are screened.
With 550,000 babies born in California each year 3 in every 100 are likely to have a hearing loss. This means 16,500 children each year in California alone may need some kind of treatment. 550 of these will have a significant loss(2) which needs immediate intervention.
But how do you test infants when they cannot give you feedback? The Otoacoustic emissions test is a simple test which is conducted while the baby is sleeping. "Soft sounds are played through tiny earphones. Sensors are attached to the baby's shoulder, neck and forehead and a machine registers whether the baby responds to the sounds."(1) The sensors measure the echo and if there is none this could be indicative of a hearing loss. Further tests would be performed such as an Auditory Brain Stem response which measures the electrical activity in the brain in response to sound. The cost of the test in Australia is around $50 to $65 per child.
Hearing milestones
According to the American Speech and Language Association and the Deaf Research Foundation babies should reach hearing and speech milestones at each age. If your child is not reaching these it could be a good idea to get his/her hearing tested. Even if they were tested at birth hearing loss in about 15% of children who are deaf by age five occurs after birth(3).


Birth to 3 months: Startled by loud sound; responding to words/chatter from parents/siblings with smiles; different types of crying for different reasons (pain, attention)


4 to 6 months: Turning to or moving eyes towards sounds; babbling (copying the sounds they hear others make); laughing; likes the sound of a rattle/toy.


7 months to 1 year: tries; to imitate sounds; speaks words even if intelligible; recognises words for specific objects; uses sound to gain attention; responds to their name.


1 to 2 years: points to objects when asked questions (eg: where is teddy?); uses simple words and puts words together in short sentences.


2 to 3 years: understands short commands such as come here or No; begins to use sentences; chooses things by size or colour; carries on simple conversations.

Our hearing is precious. Without hearing it is more difficult for a child to learn a language and without language we cannot even think. You want the best for your child. Get their hearing checked so if they need it they can get the appropriate treatment.
References:
(1) John Muir to screen infant loss https://www.contracostatimes.com/ci_10036252 Accessed 1/8/08
(2) National Institute of Deafness and other Disorders. Has your Baby's Hearing been tested https://www.nidcd.nih.gov/health/hearing/screened.asp Accessed 1/8/08
(3) Australian Consensus Statement on Universal Neonatal Hearing Screening March 2001 (Adelaide) Ratified by the Australian National Hearing Screening Committee, November 2001
(4) New born Hearing screening https://www.australianprescriber.com/magazine/26/4/82/4/ Accessed 1/8/08
(5) Deafness Research Foundation https://www.drf.org/hh_dictionary/loss_child.htm Accessed 1/8/08


Related Articles
Editor's Picks Articles
Top Ten Articles
Previous Features
Site Map





Content copyright © 2023 by Felicity Bleckly. All rights reserved.
This content was written by Felicity Bleckly. If you wish to use this content in any manner, you need written permission. Contact Felicity Bleckly for details.