How to Deal With the Heat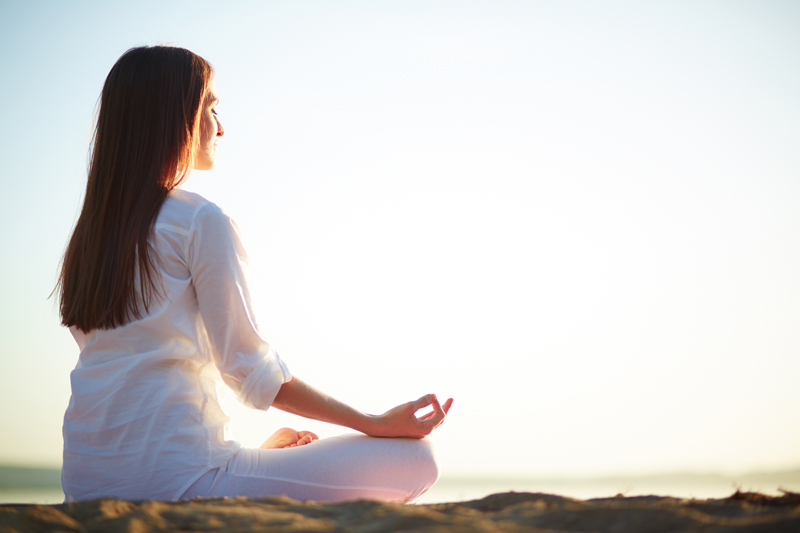 From West to East the USA is experiencing a heat wave and in some cases it has proven to be deadly. We try to beat the heat, but instead generate more internal combustion. Isn't it time we learn to get along with it? Nature is a great teacher. Summer has an expansive fiery energy that ripens flowers and fruits creating abundance. At the same time summer urges us to slow down our structured activities to take it easier, have more fun and get out there to meet and greet at country fairs, ferry rides and outdoor concerts.
When we override our natural rhythms, we set off an inflammatory response inside and out. To get along with the heat we need to practice what Eastern philosophy has known for centuries: The mind can affect body temperature. Instead of listening to the weather report telling us how brutally hot it is going be, try visualizing cool thoughts of waterfalls, glacier ponds and icy mountain streams. We can flow with the current instead of swim against it. We can breathe in and out, letting go and relaxing, inhaling the fresh air and exhaling our personal hot air.
At home try to transform the décor by lightening it up with airy fabrics and placing vases with bright flowers everywhere. In the kitchen serve summer fruits and vegetables like watermelon and corn on the cob. Eat lighter meals which require little or no cooking. Don't forget the lemonade.
Intense summer heat is a good time to forgive and become compassionate. Who needs to sit on a hot bed of anger when you can sit on a cool Lotus flower? Anger releases powerful stress hormones that rev up the body with high blood pressure, constricted blood vessels, poor digestion and shrink the hippocampus of the brain where memory is affected. Once memory is affected, can you be certain that you remember all the details concerning your being right all the time?
And if you can't travel this year, perceive your home as a vacation resort, like a bed and breakfast! Take a moment to smell the jasmine and listen to the birds. Don't forget to notice the butterflies.
The following are some tips to cool off and cool down:
Create a pitcher of delicately flavored spa water. Cut up a peach, a couple of strawberries or a kiwi and suspend in a pitcher of ice cold water. Pour yourself a tall glass and sip with a straw. This is your relaxation cue.
If you have to be outdoors in the heat of the day, stay hydrated! Make sure to take breaks in an air-conditioned room, car or mall (if your air-conditioning is not working). At least, find a shady spot.

Use a cool misting spray of water regularly on your face, neck and pulse points.
Take a minute when you get overheated to visualize a cold, watery scene. Breathe deeply inhaling and exhaling.
Place cold cucumber slices on your eyes to ease the inflammation. Your eyes are the windows to your soul – what do you want your soul to see and how do you want to be seen by other souls?
Slow down the pace. If you are a runner, try walking or swimming for a change in your exercise routine. If you have to do outdoor work or train outdoors, then do it early in the day. Adjust yourself to nature.
Use aromatherapy like a whiff of peppermint or citrus to feel refreshed.
Go on a picnic and swing in a hammock.
---
Debbie Mandel, MA is the author of
Changing Habits: The Caregivers' Total Workout
and
Turn On Your Inner Light: Fitness for Body, Mind and Soul,
a stress-reduction specialist, motivational speaker, a personal trainer and mind/body lecturer. She is the host of the weekly Turn On Your Inner Light Show on WGBB AM1240 in New York City , produces a weekly wellness newsletter, and has been featured on radio/ TV and print media. To learn more visit:
www.turnonyourinnerlight.com


Related Articles
Editor's Picks Articles
Top Ten Articles
Previous Features
Site Map





Content copyright © 2019 by Debbie Mandel. All rights reserved.
This content was written by Debbie Mandel. If you wish to use this content in any manner, you need written permission. Contact Debbie Mandel for details.