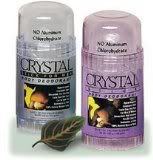 Crystal Body Deodorant Roll On is a natural mineral salt, fragrance free, and hypoallergenic, deodorant for those who would like a chemical free deodorant. In fact, this deodorant is free of all those chemicals and aluminum products that are thought to harm the body.
Most consumers are well aware of the fact that many antiperspirants contain aluminum which could harm the body. Research shows that aluminum build up in the body tissue increases the risk for many health problems. That is why health conscious consumers should consider changing to a natural deodorant which is completely free of these harmful ingredients.
Upclose
I've tested a free sample of the Crystal Body Deodorant Roll On for a few days so that I might write a review on the product. Crystal Body Deodorant goes on smoothly and cleanly. No intrusive odors. And applying Crystal Body Deodorant a few times a day seems perfectly alright. This is easily done without any messy build up or stickiness which happens with some other deodorants I've sampled. Especially a very popular deodorant used regularly. And the Crystal Body Deodorant Roll On does stop odor. I didn't really know what to expect before using it but was mildly surprised at how effective the deodorant was and underarm odor protection continued for hours. And the deodorant didn't make me feel itchy or uncomfortable the way some deodorants have a tendency. The best time to apply the deodorant is after a morning shower. And maybe tuck it in a tote and carry with you during the day to apply as needed. The only negative point about the Crystal Body Deodorant Roll On is that it did not stop wetness. This is something that I really prefer in a deodorant.
Pros
Crystal Body Deodorant Roll On is a natural deodorant product that stops odor without all the chemical additives at a very reasonable cost! Good for sensitive skin. Equally good for men and women.
Cons -
Crystal Body Deodorant Roll On does not stop wetness.
Crystal Deodorant Roll On Ingredients
Water
Mineral Salt
Potassium Alum
Cellulose
Price about 3.99 for the 2.25 ounce roll on
Available at:
amazon.com
drugstore.com