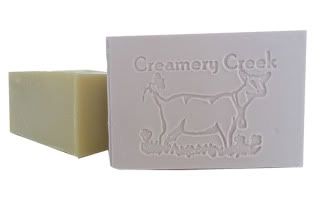 Creamery Creek Goat Milk Soap is made by Creamery Creek Farms located in Linden Utah. And is home to the Shumway Family who have raised goats and made soap for over a decade. The Shumway's are very passionate about producing high quality natural products for consumers and their family. And this certainly is evident in their line of soap products.
It's amazing how many natural skin care and body care products are on the market today. This is probably due to the demand placed on companies by consumers for products with fewer chemicals. Various small and larger companies have answered this demand by creating their own unique natural products that are kinder and gentler to the skin. Creamery Creek Farms has answered the demand too, by producing a natural organic goat milk soap.
If you are like me, you've probably never sampled goats' milk or any product that contained goats' milk. So, after the owner contacted us about a review I must say I was excited to use the Creamery Creek Goat's milk soap product and find out personally if the natural soaps made from Goat's milk were thumbs up or thumbs down.
The Real Deal
I was surprised at the very perfumy aroma after opening the box containing the five soap samples sent to me by the owner of the company. The soap bars are packaged in a simple label with the name of the company and a picture of a goat in a field of flowers. The soap bar is a generous size, cut very thick, and the soap has an old-fashioned hand-crafted soap look which I liked. The soap samples included Lime Sugar, Coconut Cream, Blueberry Scrub, Ginger/Ground Vanilla Bean and Red Clover. It is difficult to select the one I liked the best. But, Coconut smelled delicious.
The Creamery Creek Goat Milk soaps foamed up well under running bath tub water. The Coconut soap does a good job of cleansing face and body. In addition, leaves skin feeling fresh. After using a few times I find that the soap is very gentle on sensitive skin like mine. I give Creamery Creek Goat Milk Soap a definite thumbs up. This product is a good natural soap product for those with sensitive skin.
Main Product Ingredients


Fresh Goat's Milk

Saponified Skin Loving Oils

Essential Oils

6-7 Oz Bar Size

Available Online: Website: Creamerycreek Website


Note:This Product Review is a personal opinion by the Body Care Site Editor. Other opinions might vary.
Other Body Care Articles You Might Enjoy Reading!
Winterize Your Skin
Home Made Lip Balm
Home Made Bath Salts
Burts Bee's Product Review
Tom's of Maine Product Review