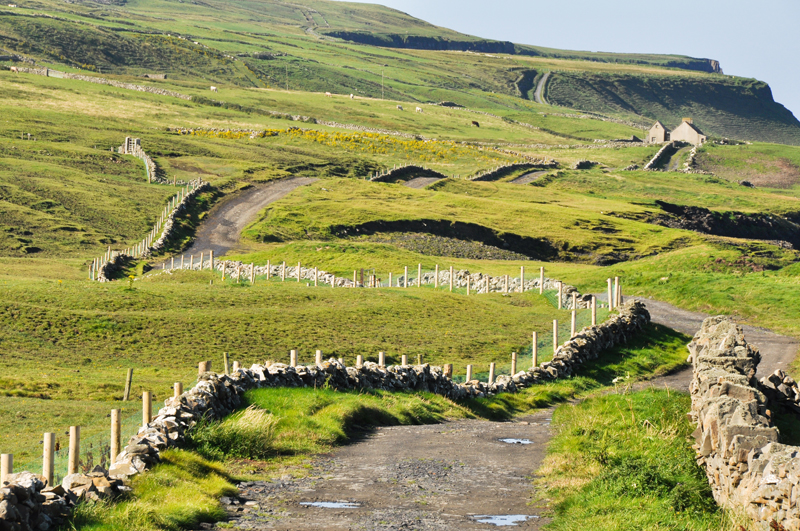 Porridge
Oatmeal is a very well-known commodity in Irish households. The children may love it or hate it, but precious few grow up without having eaten their porridge, whether by threat---"If you don't eat your porridge, you'll get no pudding"---or from healthy appetite. Sometimes adults seem to have qualms about eating oatmeal, perhaps because of some childish fixation on refusing their "mush," but generally, once they try it again, their mature palates become so enamored of the wholesome flavor and appealing texture that eating oatmeal is a healthful pleasure.
Oatmeal is a fine food. It is wonderfully filling, low in calories, high in fiber, and a low-glycemic carbohydrate of the type now recommended by nutritionists for maintaining healthy blood glucose while supplying energy. Oatmeal is good for the body.
Steel-cut Irish oatmeal is quite unlike the usual quick-cooking rolled oats. Called pinhead oatmeal, there's a distinctive nutty flavor that is absent in the rolled oats. Irish oatmeal is shaped somewhat differently from rolled oats, and looks almost like small grains of barley. Just don't forget to include a scant pinch of salt in the preparation. It can seem flat without a tiny bit of salt.
In Ireland, the standard fare is McCann's Oatmeal. McCann's has been imported to the U.S. since 1871, and is generally recognized by its distinctive classic tin. McCann's Oatmeal is an authentic, high-quality product made from the finest milled oats in the world. In addition to the great taste, the oatmeal is high in dietary fiber, low in fat with no added salt. These are old fashioned steel-cut oats, quite unlike the rolled-oat product. The oat groat is cut to enhance the flavor of the Irish oat. The distinctive hearty, chewy texture of steel cuts makes McCann's Irish Oatmeal a favorite with natural food enthusiasts.
McCann's Irish Oatmeal
You Should Also Read:
Shrove Tuesday Pancakes
Boxty, Irish Potato Cakes
Apple Tart Recipe


Related Articles
Editor's Picks Articles
Top Ten Articles
Previous Features
Site Map





Content copyright © 2022 by Mary Ellen Sweeney. All rights reserved.
This content was written by Mary Ellen Sweeney. If you wish to use this content in any manner, you need written permission. Contact Bee Smith for details.