Guest Author - Phyllis Doyle Burns
Nevada, USA
If there are any homeless ghosts out there, come on over to Nevada. There are lots of ghost towns here that you can call home. Let us take a look at some of these wonderful places for you to roam about in. With over 600 ghostly towns, you should find one to your liking, and, Location - Location - Location!
Aurora
Founded in 1860, Aurora was a mining town in Mineral County.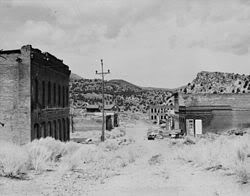 By 1869 the bustling little town of 10,000 residents had produced $27 million worth of gold.
Not much is left of Aurora. After World War II most of the brick buildings were torn down and the bricks used elsewhere. Vandalism over the years has also taken a toll on the town. The cemetery has suffered a lot from vandalism. The tombstone of William E. Carder is lying around the ground in several pieces. Apparently someone wanted to abscond with the tombstone and dropped it when they got in too much of a hurry. Carder was killed in 1864 by a man he should not have ticked off!
Berlin
Berlin was established in 1897. The remnants of what remains of the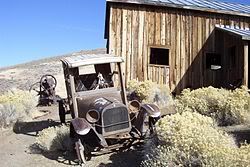 little town near the beautiful Toiyabe National Forest tells of a time when it had some creative people -- for the town was built in a U shape, with an opening to the east. It would be interesting to find out just what they expected to come from the east. In its heyday, the town had only 300 residents and 75 buildings. Now that was a lot of people to crowd into just 75 buildings!
Berlin was not quite as successful in finding gold as some of the other boom towns. With only three miles of tunnels, they found just a paltry amount of gold and silver, less than $1 million. By 1911 most of the residents had abandoned their homes. For a ghost town, it is considered to be in an excellent state of preservation and was added to the National Register of Historic Places in 1971.
Bullfrog
Sitting in Nye County are the remnants of what used to be the town's
jail. Located at the north end of the Amargosa Desert, Bullfrog is only 4 miles from the ghost town of Beatty, so you can float back and forth between the two. There is not much left of Bullfrog, but, if you won't mind staying in an old jail with no roof on it, hey! go for it!
There is some good news though. It seems as if someone purchased 800 acres of land just outside the limits of what used to be the city. Rumours are that a retreat center may be built on that land. Now there is a thought to ponder! Spook the retreaters at night when they are all relaxed, then just float on back to the jail house in the morning. Sounds like a plan.
Fort Churchill
Alrighty, then -- like forts? Here is one you will love.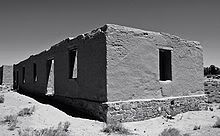 In Lyon County are the adobe ruins of Fort Churchill. It is a State Historic Park that sits on 4,461 acres. Forts are a lot of fun! You can make up all kinds of games when haunting such a place. Visitors often stop by, so they can be the bad guys and you can be the protector of your fort. Hooeey! Imagine what fun that would be. Oh! Hey! With a fort already set up, you can have snowball fights in the winter!!!
The fort was established in 1861 for the purpose of protecting early settlers, as well as the mail route along the Pony Express. Now there you go! You can be a Pony Express rider in some of your games. During the American Civil War, the fort was a really important depot for Union Army supplies. Now, I doubt very much if there are any supplies left out there, but if you are pretending, then you can whip up any sort of supplies you may need. After the Civil War ended, it was not long before the fort was abandoned.
The fort was named after the Inspector General of the U.S. Army, Sylvester Churchill. The fort has a Visitor Center. There is also a campground along the Carson River in a lovely shaded area of cottonwood trees. Lots of ways here for haunting. Plus a large fort to rest in during the day or play your games. I mean, Dude!, look at the opportunities there!
Well, that is all we have time for today. Maybe we can come back some other time and explore more ghost towns of Nevada. Happy haunting!
*******
Image credits:
Main Street Aurora
Berlin Ghost Town
Bullfrog Jail
Fort Churchill Adobe Ruins
All images are in Public Domain, or Creative Commons, in Wikipedia.
http://en.wikipedia.org/wiki/List_of_ghost_towns_in_Nevada
****
Editor Picks:
,