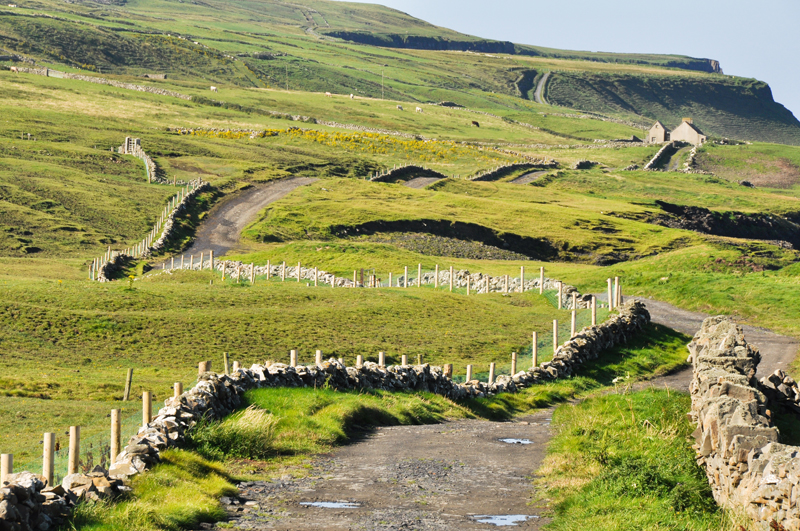 Your first meal upon arriving in Ireland is generally a "fry up." No matter the time of day or night, the Irish hostess will produce this delicious decadence along with a big pot of strong tea, milk, and sugar…and if you're lucky, some of Ireland's wonderful brown bread, butter, and marmalade or some jam that's just a wee bit different than what you're probably used to. In Ireland, gooseberry jam is very well thought of, and with good reason!
An Irish "brekkie" is built around "rashers" (meaty bacon) and sausages (generally Donnelly's…there is a whole generation that grew up on the Donnelly's sausage commercial with the jingle that featured the music of the "Mexican Hat Dance." You'd have to have been there…) There would be black and white pudding, eggs over easy or sunnyside, a mushroom or two, a half of a fried tomato, and that wonderful brown bread.
Irish stoves are built a little differently from what Americans are used to, and there's a "grill" beneath the cooktop, a perfect place to grill the combination of meats that makes up the Irish breakfast. It's a clever accommodation for what was once a staple treat in the Irish diet. Now, of course, the menu in Ireland is expanding exponentially as the EU delivers exotic treats and the more prosperous Irish cook works hard to banish Ireland's one-time reputation for bland and scant victuals. Enjoy the noveau cuisine of Ireland by all means, but don't forget the old faithfuls. They're as good as ever they were.
Here are the ingredients for the Irish Country Breakfast: