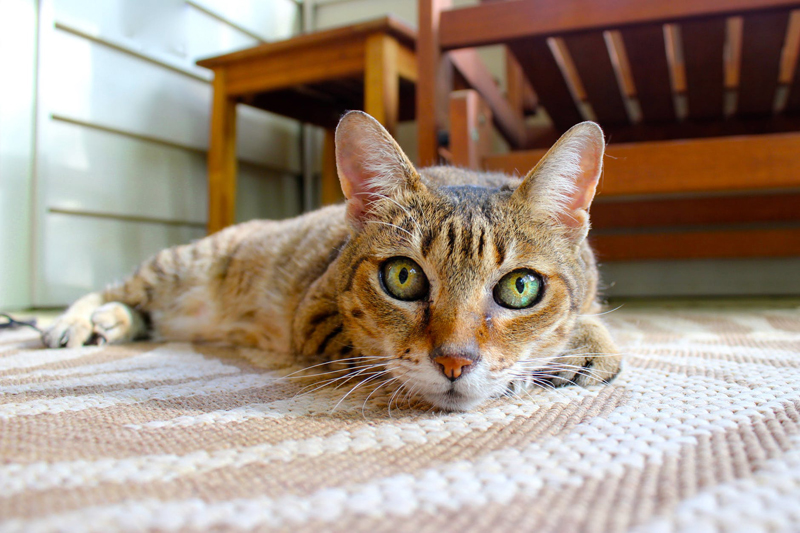 There are many methods to make a rag rug, some easy, some complicated. What is your favorite method? And then, what is your favorite design?

What if you just have an idea for a design? In that case the design might dictate the method. In short, the two go hand in hand.

Braided rugs
Braided rugs are mostly coiled, and they can be round, oval, rectangular or square. The alternating bands of color and background make the typical braided rug design that is frequently associated with the country look or style. Still, this can also be very effective in a modern setting. In its simplest form, braids are sewn side by side to form a rectangular mat, and the design can be plain or striped. By using different colors in the braids, an overall pattern will emerge. Another variation that is worth trying is making small coils and then attaching the coils to each other. The coils can then be arranged in an interesting pattern or design.

Shirred Rugs
Although shirred rugs can be quite complicated to make, they are not unlike braided rugs in that they can be coiled or sewn side by side, and also assembled in coils of varying sizes

Loom Woven Rugs
Rag rugs made on a loom lend themselves to striped patterns, either "hit or miss" by taking fabric strips at random, or by sorting the strips by color and weaving larger bands or stripes in different colors. As many skilled weavers have shown, it is possible to weave in beautiful flowing designs by changing the colors at different intervals. To do this, strips can be either joined by stitching or by overlapping the strips while weaving.

Hooked rugs
Rag rugs hooked into a backing allow more freedom in design. Textile artists have elevated this type of rug making into an art. Rachelle LeBlanc in Montreal is one of these artists. She has found in this craft another outlet for her artistic ability. The Canadian Museum of Civilization shows examples of this kind of rug making design on their website.

Hooked rugs are made on a simple frame, on which to span the burlap or other backing material, A simple hook is used to pull the fabric strips through the backing, leaving loops as the rug's surface,

Abstract designs have their own demands for composition, but they tend to consist of simple elements. Look for a balance in colors. For example, to portray autumn, use browns, oranges, and yellows, adding perhaps some white and a touch of green.

Rugs are household objects that reflect the lifestyle of the time. As they are durable, they also have heritage value. Rugs that are made now will be treasured as part of the heritage we leave behind. Is this something to consider when choosing a design?
This site needs an editor - click to learn more!

You Should Also Read:
Designing and Finishing a Braided Rug
Braided Rugs - Country Style or Modern




Related Articles
Editor's Picks Articles
Top Ten Articles
Previous Features
Site Map





Content copyright © 2022 by Iris ten Holder. All rights reserved.
This content was written by Iris ten Holder. If you wish to use this content in any manner, you need written permission. Contact BellaOnline Administration for details.