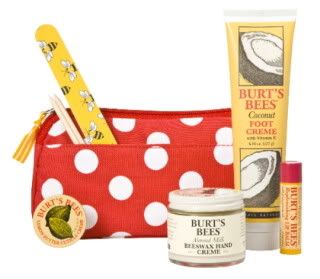 Wondering if all the buzz about the Burt's Bees Polka Dot Perfect Mani-Pedi Kit is true? Read our new review for information on this product.
The Body Care site was recently contacted about reviewing this product. And we gladly accepted the opportunity to review the Burt's Bees Products especially because of their natural personal care line. Burt's Bee's is known for producing a natural and organic line of products for the last 25 years. In fact, the company has grown from a small operation to a multi million dollar business.
The Burt's Bees Perfect Mani-Pedi Kit
This holiday season Burt's Bees is offering customers a kit with a selection of their most popular products. The Burt's Bees Perfect Mani-Pedi Kit. The Burt's Bees Perfect Mani-Pedi Kit is packaged with an attractive red and white polka dot bag that could fit easily into a tote or smaller handbag. So, it is perfect for holiday travel and vacations.
The sample kit sent for review included the following products:
Replenishing Lip Balm.
I used the product for several days and found that the Replenishing Lip Balm with pomegranate oil leaves lips feeling soft and oh so supple. Great lip balm product. Contains sunflower oil, pomegranate oil, coconut oil, lanolin, plus other natural ingredients.
Lemon Butter Cuticle Cream.
Use this cuticle cream to condition nails and cuticles. Smooths cuticles and smells lemony delicious. Contains sweet almond oil, bees wax, lemon seed oil and other natural ingredients.
Coconut Foot Cream.
Great for rough dry skin on the feet. Adds softness and smoothness. My feet amazingly looked smoother after one treatment. The Cream smells yummy! Main ingredients include Glycerin, fruit oil, lanolin, coconut oil. And other natural ingredients.
Almond Milk Hand Cream.
My hands have a tendency to get very rough and dry in the winter. So, I was glad to try this product. The product has a surprisingly thick consistency. I smoothed it on my hands at night before going to bed. The very next morning I noticed an immediate improvement in my dry skin. Product has a wonderful sweet almond like aroma. Ingredients include sweet almond oil, aloe vera, grapefruit, bees wax along with other natural ingredients.

Note: Kit also contained cuticle sticks and a cute Emory board embossed with their signature bee design.

The Verdict:
Burt's Bee's certainly lives up to their reputation on producing quality natural personal care products. The kit in my opinion is definitely a product worth checking out. Burt's Bees Polka Dot Perfect Mani Pedi Kit is available online at Target. Purchase price is $19.99. And would make an excellent holiday gift for the traveler. Or you might decide to purchase an extra kit for yourself!
Order Your Own Burt's Bees Polka Dot Perfect Mani Pedi Kit Now!