2006 New Year's Resolutions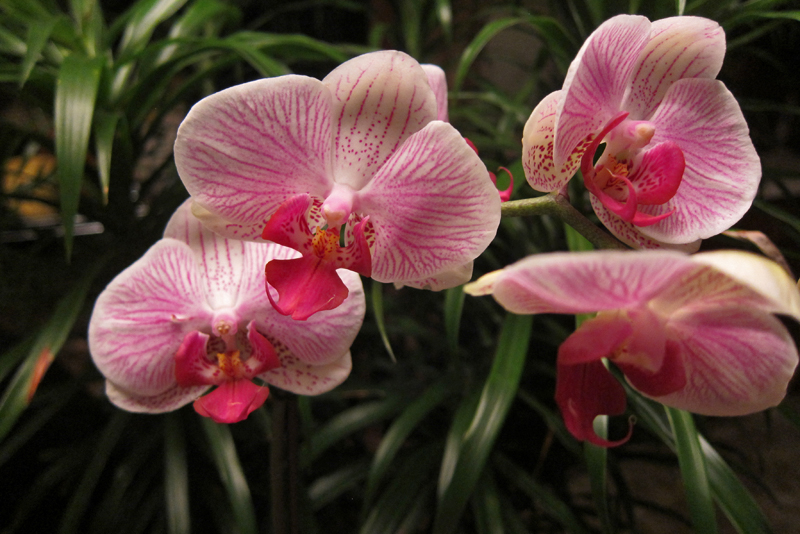 In order to do this article I went back and looked at last year's resolutions. As with all of my personal attempts to make myself better, I managed to do some and did not do well on others. Let's try again for another year!
Stop buying yellow and red Cattleyas
I counted and I have twelve different yellow, red or yellow and red Cattleyas, or Cattleya crosses, only two of which are doing well. Every time I go to a nursery or a show I see another one and buy it. This time I'm really going to stop. I'll also see if there is anything that I can do to encourage the ones that are still alive to do better. Move them to another place, water more or less, etc.
Only use rainwater on species
I have found that no matter what species it is, my water is much too hard for any of them. I believe that some of those I've killed have been the result of the water. I have devised a rainwater collection (mostly manual) system and will use this for my species in order to provide better growing conditions for them. In order to do this, I'm going to dedicate a corner of the greenhouse to species so that I can easily accommodate changing to rainwater in that area.
Move heat sensitive plants outside during the summer
I've been hesitant to move plants out side, but this year I tried it with a
Cattleya intermedia
that was suffering in the greenhouse heat. It thrived in spite of wind, caterpillars and bugs. I'll devise a spot to put more plants outside this year and see if that will help some of them.
Grow the orchids I have better
I have had good luck with most of the orchids I grow (with the exception noted above with yellow Catts). Some, however, do better than others. I will spend more time and effort in growing those that are not doing as well and try to figure out what they need that I'm not giving them.
Contribute to Orchid Conservation and Education
This year I will contribute to
in-situ
or on site conservation of natural orchid habitat.
The World Land Trust
will be the recipient of one of my donations.
The Internet Orchid Species Photo Encyclopedia
is one of the best references on the web and is provided free by Jay Phal. I refer to this site every time I write about species orchids and will do my part by supporting it financially. I will contribute articles when and where I can on conservation and education in the field.
Become more active in the orchid community
I have really enjoyed working with orchids and have gotten a great deal of help and advice from the orchid community both in Houston and across the country. It's time to give back by becoming more active. I have taken over as the editor of the Houston Orchid Society newsletter and am now on the Newsletter Task Force for the AOS.
You Should Also Read:
Build a Species Collection
How many is too many?
World Land Trust and Orchids


Related Articles
Editor's Picks Articles
Top Ten Articles
Previous Features
Site Map





Content copyright © 2023 by Susan Taylor. All rights reserved.
This content was written by Susan Taylor. If you wish to use this content in any manner, you need written permission. Contact Anu Dharmani for details.