Crochet with Hand Dyed Yarns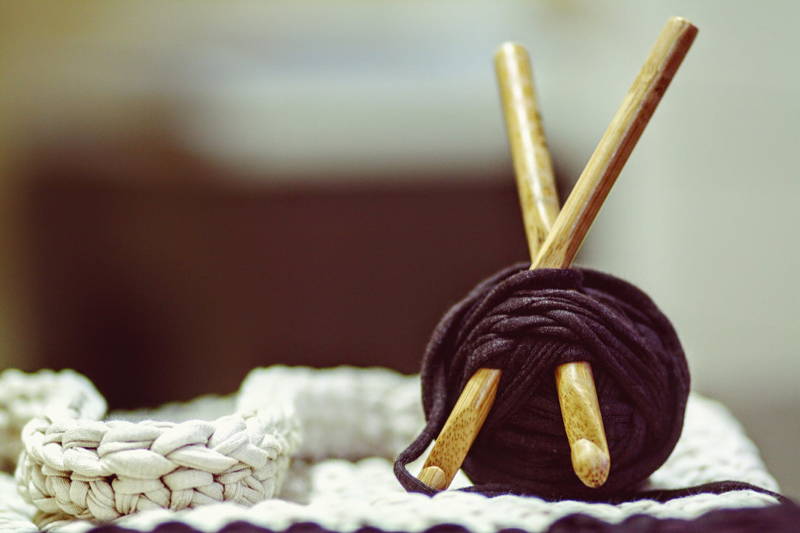 Hand Dyed Yarn worked in Single Crochet
The yarn world today is completely different to the one that I grew up in!
For a start I am sure that until a few years ago I bought 'wool'; I bought it from a 'wool store' regardless of whether this 'wool' it had ever seen the back of a sheep! Today I buy 'yarn' and there is a much wider range of all types of yarn, from pure natural wools, to soft acrylics and an exciting ever growing range of fancy yarns and if not bought from a local Yarn Store then bought over the internet.
When I was taught to crochet by my grandmother the trend at the time was for 'new' nasty, harsh nylon yarns. Although, of course we didn't think them nasty at the time (in the '70's) - then we thought them a marvel, washable, colourfast and sparked in the dark. For a young girl it didn't come any better than that!! (As a complete aside one of the first things I ever made was a blanket in nylon yarns and today - 30 years later it is still going strong as a dog blanket and STILL retains its shape and colour so not all bad!!)
One of the big trends at the moment is hand dyed and hand painted yarns. You know the sort of thing, these are the lovely rich colour skeins which almost look like works of art in themselves. They are not cheap - neither in quality or cost, however most of these hand dyed yarns are artisan created, created by individual craft workers in their own workshops. Some of these yarns will have been hand spun too - taking the wool from its rawest state and turning it into a unique master piece. Highly unique and unusual yarns combining a wide range of different fibres and other materials are often created by spinners.
However, what do these hand dyed yarns crochet like? It largely depends on the 'type' of hand dyed yarn. I don't know if you have ever worked with the self patterning sock yarns, however if you have you will have noticed that we crocheters do not get the same 'fair isle' effect that knitters do. This is because the crochet stitch is formed differently and it is typically much deeper than a knit stitch (one row of crochet is equal to two rows of knitting?) and therefore the more gradual variegated effects that you might see with knitting are not replicated with crochet.
A Skien of Hand Dyed Yarn
To demonstrate the difference between Hand Dyed yarn which has been crocheted compared with that which has been knitted I dyed a skein of wool and worked two sample squares using the same yarn.
The first picture below is of the yarn which has been crocheted and the difference between this and the knitted sample is quite marked. Whereas the the knitted sample gives a more gradual overall effect, the crocheted sample has perhaps a more random effect. It is emphasized even more when looking at the difference between single crochet (dc uk) which is at the bottom of the sample and the double crochet (tr uk) at the top of the sample. The tall double crochet stitches mean that the colours are more definitely grouped together and there is much less of a gentle variegated feel.
The second picture below is a photograph of the yarn which has been knitted and the colours more smoothly run into each other.
Crochet Sample
Knitted Sample
These are just my observations from working with a variety of yarns and I would love to know your thoughts - do you have any hints for working with hand dyed yarns or favorite patterns...? Do pop over to the forum and let us know!


Related Articles
Editor's Picks Articles
Top Ten Articles
Previous Features
Site Map





Content copyright © 2022 by Kate Pullen. All rights reserved.
This content was written by Kate Pullen. If you wish to use this content in any manner, you need written permission. Contact Holly Messenger Aamot for details.