Guest Author - Vivienne Oestergaard
I had never seen 3D cards before. I moved to Europe and it was the rage in Holland. You could find all kinds of printed materials for making the 3D cards. I found out later that it is similar to the craft of Paper Tole (which I had never heard of either). In any case, both refer to a papercraft in which you create 3D scenes using 2D printed art.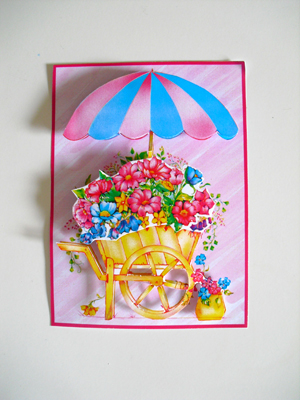 There are many online stores in which you can buy the prints but itís just as easy to take a print, copy it a number of times, select the pieces to cut and then assemble it on a base.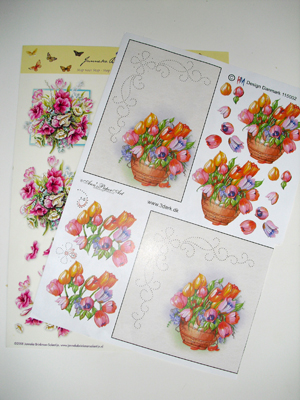 Here are some websites for free patterns:
http://www.masikatiwebdesign.com/3D/3dsheets.asp
http://www.papertole.co.uk/default.cfm?free
Here is what you need to get started.
Printed sheets of artwork
Good pair of paper scissors
Craftknife
Self-healing mat
Foam mounts
Cards to mount the print to
Gluestick
Trim such as glitter or stickers, optional
Usually, I prefer to cut the pieces while watching TV as itís soothing and relaxing. If you print your own art, you will need 4 or 5 copies and then you will need to select your dimensional objects. If you purchase them, it will be printed already and you will just need to cut and assemble. Cut as close to the lines as possible using scissors and/or craftknife.
When you have all the pieces ready, select your card, glue down the base print/photo to the card with a gluestick. Take each remaining element pieces and mount onto the print with foam mounts which will raise each piece to make it dimensional. The foam mounts have adhesive on each side. If necessary, you can cut the mounts in half.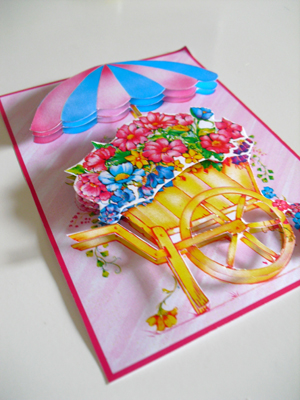 You can decorate the card further with glitter or stickers. I like using gold or silver border patterns on my cards. The 3D look is so decorative that you wonít need much more than that in itself for the card.