Spread the love and make guests feel welcomed with this stuffed paper hearts door hanger. Except for the stuffing, and the tape, glue and thread that hold it together, this hanger is made mostly out of paper, although you may want to substitute ribbon and embroidery floss for the paper yarn.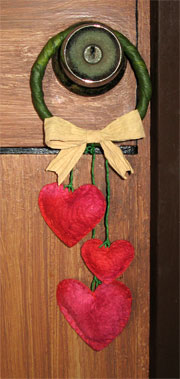 You will need:
* Heart templates (Use
these
or make your own)
* Red handmade paper
* Paper bag
* Masking tape
* Green florist's tape
* Green paper yarn
* Beige paper yarn
* Fiberfill
* Red sewing thread or embroidery floss
* Needle
* Scissors
* Pencil
* Piece of twist wire
* White craft glue
* Quick hold glue or hot glue gun
To make the hoop
The hoop is made from a twisted paper bag covered with florist's tape, but you can also use paper yarn if you want. Cut off the bottom of a paper bag and twist the bag into a rope. Join the ends with masking tape to form a hoop that's about 3 inches in diameter, cutting off any excess paper to keep it from getting too bulky. Tightly wrap the entire hoop with masking tape, and then wrap the hoop with a layer of florist's tape or untwisted green paper yarn. Secure the end of the tape or yarn with white glue. Set aside.
To make the hearts
Using the template as a guide, trace and cut the small, medium, and large hearts from red handmade paper, cutting two pieces for each size. For each heart, sew the two pieces together using any stitch of your choice, e.g., blanket stitch, whip stitch, running stitch, etc., but be sure to stuff some fiberfill into the heart before stitching it close.
Cut an 8-inch length of green paper yarn. On one end, form a small loop and secure it in place with two knots. Stitch the paper yarn to the large heart, passing the thread through the loop. Secure the thread and cut off the excess. Repeat with the medium and small hearts, using paper twine that is around 4-1/2 inches and 6-1/2 inches long, respectively.
Tie the large heart to the hoop using two knots, and tie the medium and small hearts on either side of the large heart. You can tightly twist any excess paper yarn so that they curl into "tendrils".
To make the bow
Cut a 10-inch length of beige paper yarn and untwist it. Cross the paper yarn at a point about two inches from each end, forming a loop. Fold the middle of the loop so that it meets the yarn where the ends cross, and tie the yarn together with twist wire into a bow shape. Cover the middle of the bow with another piece of untwisted paper yarn and glue into place. Attach the bow to the bottom of the hoop using quick hold glue or hot glue and let dry.
If you wish, you may further decorate the door hanger with bells or other embellishments.