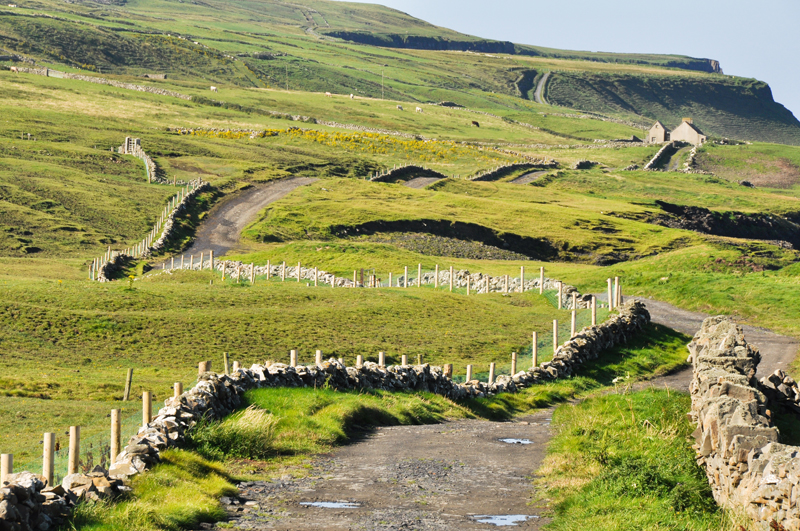 Christmas Day

If the family hadn't been to Midnight Mass, it's usual for Catholics to go to early mass on Christmas morning. In the past, if was a requirement to fast since the night before in order to take communion, which would have been desired on Christmas if at no other time. Now, even if you don't take breakfast, you would at least have a cup of tea before mass.

After mass, there would be a big breakfast of rashers, sausages, black and white pudding, fried tomato, eggs, maybe potato pancakes or beans on toast---whatever the family favorites---and soda bread along with pots of tea, and that would hold you through to dinner.

Between breakfast and dinner, the Dad would often take the older children out for a round of visiting, leaving Mum a bit of quiet to get on with dinner. In many families, this involved visiting the older relatives and shut-ins. Orders were given to refuse offers of tea or biscuits, and visits were brief with much territory covered. Often the pockets jingled on the way home.

Presents and stockings are opened on Christmas morning. As well as toys and presents, children traditionally receive a apple in the top of their stocking and a orange in the heel, along with some chocolate coins.


Christmas Dinner

Christmas dinner is usually eaten as early as 2 or 3 pm. The table is decorated with candles and the finest linen, crystal, and silver. Some of the traditional starters for the meal are prawn cocktail, melon, or smoked salmon with Irish brown bread. A fairly traditional menu for Christmas dinner includes goose or turkey with stuffing, ham, and in some houses, spiced beef, roasted and mashed potatoes, turnips, Brussel sprouts, carrots, cauliflower, parsnips and any other family favorites, followed by Christmas cake, mince pies, trifle, a Christmas (plum) pudding and brandy butter. Bottles of spirits, wine, Guinness, and lager flow freely. Cadbury Roses, Flake, and filled chocolates can usually be found on the sideboard, along with cream mints and caramels. Generally, there's a pot of turkey giblet soup on the stove to stave off the hunger until dinner time.

After dinner...there would be snoring from some quarters; "carry-on" from others. Usually, it's an early night and God Bless.




Related Articles
Editor's Picks Articles
Top Ten Articles
Previous Features
Site Map





Content copyright © 2022 by Mary Ellen Sweeney. All rights reserved.
This content was written by Mary Ellen Sweeney. If you wish to use this content in any manner, you need written permission. Contact Bee Smith for details.