Rots to watch for in Orchids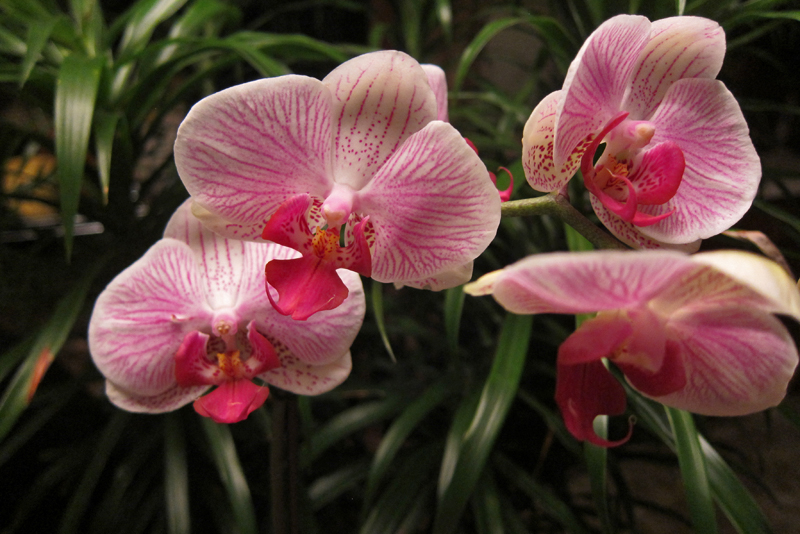 Root Rot
Root rot can happen at almost any time of year, but the winter it seems to be more prevalent due to decreased watering needs and cooler conditions either in a greenhouse or a windowsill. Good air circulation and proper watering practices will go a long way to keeping your plants from developing root rot.

The first symptoms are shriveled leaves or pseudobulbs and then leaves will turn yellowish and finally drop off leaving the plant with no way to photosynthesize and it will die. If you remove the plant from its medium you will find that most if not all roots have dies and are brown or brownish and withered.

The most common cause of root rot is overwatering -- and this is also the most common cause of death in orchids by the beginning grower. Clip off all the dead roots to encourage new root growth and sprinkle with cinnamon or spray with a fungicide. You can either encloose the roots in spaghnum moss and place in a clear plastic bag in a shaded location, or put the plant bare root in a clay pot kept in a humid atmosphere. In many instances the plant will produce new roots and can be planted in a small pot to start regrowth. Make sure that you keep humidity high and do not overwater the plant once it is repotted.

Black Rot Fungal Infection
This time of year with its cool temperatures and low light conditions is ideal for the formation of Black Rot which is a fungal infection caused by several species of Phytophthora. It is particularly deadly to Cattleya Alliance plants, but will attack almost any orchid.

The first signs are normally a blackening of the lower part of the pseudobulb which moves up the newest lead. I cannot overstate the importance of doing something immediately if you notice something like this, especially on a Cattleya. If you don't take immediate action, you can lose a plant within three days. Don't procrastinate. Immediately cut back the plant to unaffected green plant material. Remove the blackened pseudobulb and at least a quarter inch of green tissue and dispose of the removed tissue away from the rest of your plants. This is a very infectious fungus and it can be easily transmitted from one plant to another. Spray the cut area with Physan or Consan or sprinkle with plain cinnamon to inhibit any more fungal growth.

Place the plant in a warm and dry area and spray once a week until the plant appears to be fungus free. If you have not cut off all the affected tissue, it will continue to grow and overtake the plant. The way the fungus spreads is believed to be by splashing from watering or misting. So carefully water only on the medium rather than the leaves and increase your air circulation to promote faster drying.

You Should Also Read:
Neem Oil
Tying and Staking Your Orchids
Winter Orchid Growing Tips


Related Articles
Editor's Picks Articles
Top Ten Articles
Previous Features
Site Map





Content copyright © 2023 by Susan Taylor. All rights reserved.
This content was written by Susan Taylor. If you wish to use this content in any manner, you need written permission. Contact Anu Dharmani for details.