Tying and Supporting Your Orchids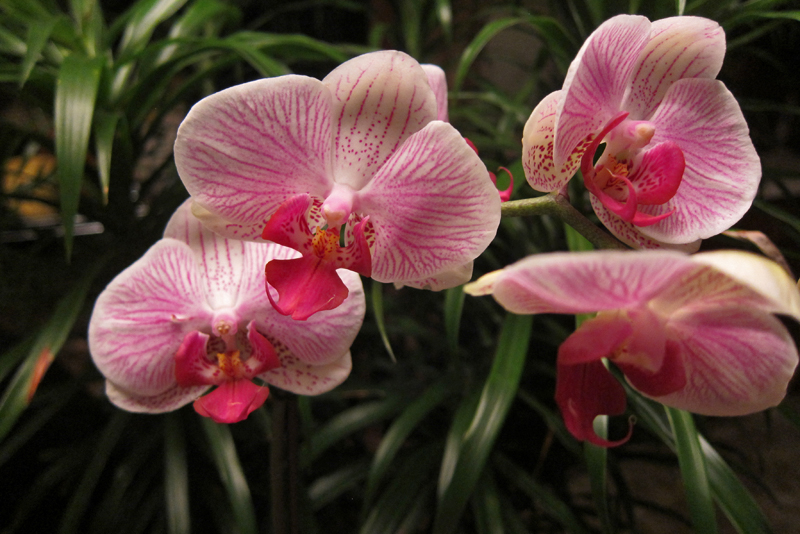 One bothersome question that all orchid growers have is how to best support your orchid stems and inflorescences so that the flowers are gracefully presented for viewing. It doesn't matter if you have one or hundreds of plants, this question always comes up when orchid people get together.

Stakes can be made of a variety of products from bamboo barbeque skewers to special metal stakes. In truth, almost anything can be used that is tall enough and stiff enough to control the plant. I've experimented and tried using branches from trees and this works well and looks natural, but you have to be sure to let the branch dry in the sun for about a month to make sure it doesn't try to grow. I had several take over the orchid pot with their roots before I learned this lesson. I do like the natural look and they don't overpower the plant or the flower like some other stakes. Bamboo stakes of various kinds work well, but I personally dislike the bright green ones -- I think they're unnatural looking.

Metal stakes come in a variety of shapes and sizes. Here again I prefer the natural colored ones or thin plain metal. One grower here in Houston makes his own metal inflorescence sakes from long pieces of wire or hanging basket hangers. Cut the wire about one inch longer than you want the stake to be, bend the one-inch end at a 90 degree angle and then turn it back towards the stake in a "U" shape. The inflorescence is placed in the "U" to hold it in place. This works very well for Paphiopedilums and other single or double flowered orchids such a small or compact Cattleyas.

Once you get to the long inflorescences of orchids such as Dendrobiums, Phalaenopsis and Oncidiums, you need to get more creative with your staking. Standard Dendrobiums have presented a special problem for me because the plant itself is large, they need to be pot bound and they need to be staked to keep them upright. The simplest thing is to grow these plants in a hanging basket with a wire support. The plants can be tied directly to the wire. I like to use hobby raffia for this since it is inexpensive, easy to find and approximately the same color as the dried sheaths on the plants themselves. If grown in pots, the stakes that attach to the side of the pot are good for Dendrobiums since the small pots are very often not deep enough to put in a stake for a tall plant.

Oncidiums are normally staked the w hole length of the inflorescence in order to best present their flowers. Long metal are generally used, the ones I like are brown or dark green so that they do not detract from the plant itself.

Phalaenopsis inflorescences need staking when they get about six inches or 15 centimeters high. Most growers like to support the inflorescence to just below the first flower and then let it bend naturally for an arching display. The inflorescence can be held to the stake with clips, raffia, or any kind of ties or plant tape. Try to keep the whole effect natural so as not to detract from the plant and flowers.

You Should Also Read:
Orchid Growing Tips #12
Exhibit your orchids in the home
Beginner Orchids


Related Articles
Editor's Picks Articles
Top Ten Articles
Previous Features
Site Map





Content copyright © 2023 by Susan Taylor. All rights reserved.
This content was written by Susan Taylor. If you wish to use this content in any manner, you need written permission. Contact Anu Dharmani for details.