Midnight Sun Brewing - Masters of World-Class Beer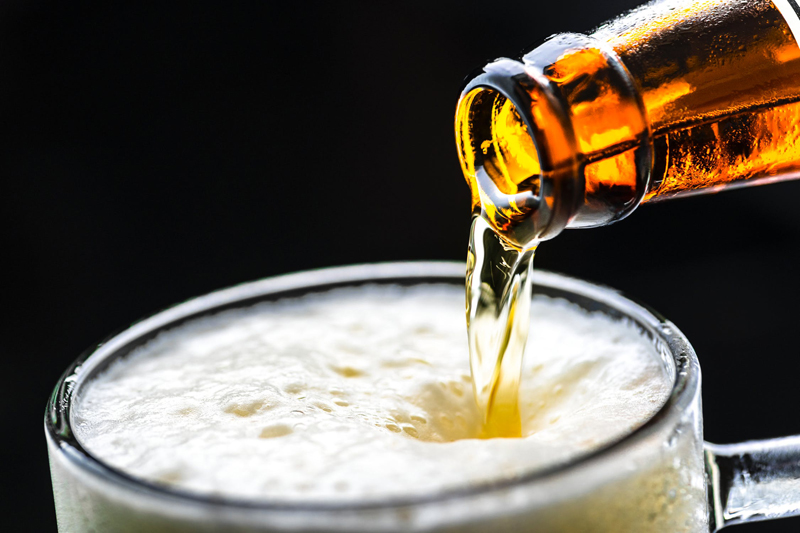 The Land of the Midnight Sun – exotic, wild, and vast. In winter, a few hours of daylight, more closely resembling twilight, lingers in the sky, often insulated by thick, silver clouds like the voluminous head on a Belgian Ale. Summer brings contrast – a persistent sunlight that infuses the world with miraculous life. The Midnight Sun!


Midnight Sun Brewing in Anchorage, Alaska, USA epitomizes the dignity of this illustrious title. As home of the Arctic Devil, eight-time winner of the Golden Plate at the Great Alaska Beer & Barley Wine Festival, Midnight Sun distinguishes itself as master of the style, the makers of magic that place it in the realm of "World Class."

Owners Mark Staples and Barb Miller have created a world where chemistry, science, and artful creativity merge as a team effort to produce some of the most pleasurable beers on the planet. Staples himself is a brewer, but delegates responsibilities of proficient choice to Head Brewer Gabe Fletcher and Brewer Ben Johnson. As a team, they make decisions on styles, ingredients, and method, and discuss contrasting imaginative efforts for future brews.


Gabe Fletcher names Great Beers of Belgium by world beer authority Michael Jackson as his favorite brewers' book - not exactly a book on brewing, but a feast of historical background, fermentation techniques, serving methods, ingredients, and creative stimulation for the active imagination of the brewer. Fletcher finds inspiration in the free form jazz and heavy metal that fill the brewhouse when he creates most brews. He flips to the sounds of English musicians when he brews barley wine, and returns to jazz when the mood hits him.

As members of the beer community, Midnight Sun joins in the camaraderie that strengthens the craft brewing industry. On January 17, 2007, Brewery Manager Ben Love from Pelican Pub & Brewery in Pacific City, Oregon (Winners of the GABF Large Brewpub of the Year 2006) joined Head Brewer Gabe Fletcher in a collaborative effort that merges the talents of the two masters into "Conspiracy," a Black Belgian Beer that promises to deliver a wow to the palate.

The newest undertaking at Midnight Sun is a progressive series called "The Seven Deadly Sins," with a new sin committed for the next seven months. At the end of the year, they will celebrate the hedonism in a 7 Deadly Sins Beer Dinner that will flaunt the escapades of creativity in its finest hour.


"What are these Seven Deadly Sins?" you ask. Examine your own conscience to see where your passion lies:
Lust – Using La Maitresse du Moine (Monk's Mistress) as a backbone, this Dark Strong Ale is aged in oak bourbon barrels, with the addition of cherries and Brettanomyces.
Pride – In the style of Orval Trappist Ale, Pride is a Belgian Pale with Brettanomyces.
Gluttony – Plans for this triple IPA include 200 IBU's and 11% ABV.
Greed – Belgian Style Single
Sloth – Belgian Imperial Stout
Envy – Imperial Pilsner with 80 IBU's and 9% ABV
Wrath – Belgian Tripel of 100 IBU's – No spices will be used in this tripel; rather, Midnight Sun will use Canadian Belgian yeast and temperature to achieve flavors and aromas.

Beer Fox Tasting Notes


On my January 2006 trip to the Great White North, the team at Midnight Sun presented their indulgent brews, a veritable joie de vivre that symbolizes their prominence in brewing heaven. My tasting notes reveal the pleasures of these earthly delights:

M - 10th Anniversary Beer celebrates Midnight Sun's 1000th batch. The bottle emerges from the Midnight Sun aging cellar, draped in dust that signifies the elegant aging of a well-respected beer. As the label states, this is a "larger-than-life Belgian Style Barley Wine," the artful merging of Belgian and Barley Wine styles. With an original gravity of 37 Plato, this huge grain bill is boosted with Belgian candi sugar and subjected to a 5-hour boil; then, merged with the dramatic effects of three wild Belgian yeast strains. Flavors develop over time, gaining subtle complexity that can only be achieved from aging in wood – first bourbon barrels; then French oak; and finally, American oak. This produces an exotic beer that covers the lips like sex. Aromas of melted caramel and peppery spice rise in the nose.
On the tongue, bourbon silkiness awakens the senses, as ripe molasses, saddle leather and sweet vanilla stimulate the taste buds. Is this the 8th Deadly Sin?

Double White Witbier – Hazy and unfiltered, an amber body waits beneath a creamy head. Effervescence skips across the tongue. Corinder, orange, and chamomile blend with grains of paradise.

La Maitresse du Moine (Monk's Mistress) – In this Dark Strong Ale Specialty, a blend of German Pils, Torrified Wheat, Flaked Barley, Munich Malt and Belgian Aromatic malts create amazing complexity from the beginning of the mouth-fill to the end of the swallow. No additional sugars are added. Flavors and aromas of espresso, dark figs, and earth become a velvety blend through aging in bourbon barrels.

Arctic Rhino Coffee Porter – Smooth, rich, dark roasted flavors of South American coffee grab my attention with immediacy. Brewer Gabe Fletcher confirms that he uses roasted dry beans of Peruvian, Sumatran and Bolivian coffee in a process similar to dry-hopping, immersed in the cold side "overnight." This develops softer flavors, rather than old-coffee bitterness, and allows for clean efficiency and the resultant rich smoothness.

Oosik Amber Ale – Alaska is the land of Mother Nature, characterized by unusual occurrences within the animal kingdom. We think of the walrus as a formless, semi-aquatic creature, embellished with tusks that are used for fighting and displays of dominance. You may not know that the walrus also has a penile bone, (as do seals, sea lions, polar bears, and some whales), called an oosik, a term used by the Alaska Natives. This bone can range from 20 to 24 inches in length, and is often polished and sold as souveniers or used as a handle for knives and other tools. Barb Miller told the engaging story of her search for an oosik as a symbolic characterization of Midnight Sun's Oosik Amber Ale. Her search resulted in a 20-inch bone that remains on display in the brewery and celebrates the distinctiveness of Alaskan nature. Oosik Amber Ale has since been retired, but had enjoyed the attention of the beer community, served on draught with their Oosik Amber tap handles of resin material.

Arctic Devil Barleywine 2003 – a 14% ABV delivers a powerful, yet smooth intermingling of intense flavors – dark plums, raisins and figs, awash in frictionless bourbon that glides across the palate.

Arctic Devil Barleywine 2006 – the assertive fruitiness of the 2003 blend displays a leaner fruit profile and deeper blend of wood character that promises to become more polished with aging

Cohoho Imperial IPA – An intense aroma and "wow" flavor results from the artful brewing with German Pils malt and Simcoe hops. Cohoho on Nitro accompanies my introduction to two classic Alaskan dishes: Blackened Alaskan Halibut Salad – "fresh, Alaskan Halibut fillet, blackened with Cajun seasonings, served on romaine with tomato and croutons, tossed in a Caesar vinaigrette" and Smoked Salmon Scallops – "Alaskan sea scallops sautéed, with smoked Alaskan Red Salmon and pea pods, fresh dill and sherry cream sauce, tossed with fettuccini." Cohoho presents as a big, hoppy beer with a smooth, ultra-creamy head that reminds me of gliding my hand across an elegant fur; it then grabs the back of the throat with bitter waves of pleasure. The soft and smooth flavors are an able match for both the fettuccini and the salad dishes, and the assertive hops tend to both temper and, at the same time, spotlight these spicy flavors.

Kodiak Brown Nut Brown Ale, Sockeye Red IPA, Mammoth Extra Stout, Epluche Culotte Tripel (Panty Peeler), Old Whiskers Hefeweizen, and Full Curl Wee Heavy Scotch Ale round out an incredible line-up of masterful beers crafted by Midnight Sun Brewing. Watch for ever-evolving beers and perennial seasonals from these world-class brewers!

Cheers!

Photos (from top): Arctic Devil Barley Wine Label; Midnight Sun Brewers Mark Staples (Owner), Gabe Fletcher, and Ben Johnson with Beer Fox Caroyn Smagalski; Celebrator Beer News Publisher Tom Dalldorf, Beer Fox Carolyn Smagalski and Midnight Sun Owner Barb Miller; Archived dust-covered bottle of M 10th Anniversary Ale; M 10th Anniversary Ale.

You Should Also Read:
Great Alaska Beer Series - Beer in Alaska
The Great Alaska Beer & Barley Wine Festival - History Past & Present
Naming Your Homebrew - A Touch of Irreverence


Related Articles
Editor's Picks Articles
Top Ten Articles
Previous Features
Site Map





Content copyright © 2023 by Carolyn Smagalski. All rights reserved.
This content was written by Carolyn Smagalski. If you wish to use this content in any manner, you need written permission. Contact Carolyn Smagalski for details.