Greek Pantheon - Olympian Goddess
From the aching head of Zeus, the pain and cleaving of his skull brought forth his beloved daughter. From this miracle, a new goddess, Athena, was birthed into the Olympian Pantheon.
Zeus had many consorts and Metis was one of them -- most likely she was his first wife according to some scholars since earliest times. Metis is the Titan goddess of wisdom and cunning. She was born in an earlier generation, before Zeus.
Zeus was given a prophesy that if Metis had children by him, they would be more powerful than even Zeus. If a son was born from this union, he would in time usurp Zeus' powers and status as King of the Gods and Men. Zeus, being a lustful god, could not resist a chance to lay with Metis. Fearing the possibility of Metis conceiving from this union, he managed to coerce her to turn herself into a fly and then he swallowed her. This served no purpose, for Metis had already conceived.
Within Zeus, Metis began to create a helmet and robe for the child she carried. Hammering away constantly on the helmet is what gave Zeus the horrendous headache. The pain was so bad for Zeus that Hephaestus, his son by Hera, took his axe and split the forehead of Zeus. As he did this, Athena jumped out, full grown, fully armed and wearing her helmet and robe that Metis made for her. With a primordial war cry to Gaia, Athena announced her arrival.
Zeus was immediately healed as if nothing had happened and he saw before him the daughter who would become his favorite and his most important aid in matters of warfare and strategy.
Among the goddesses of the Olympian pantheon, Athena is unique in that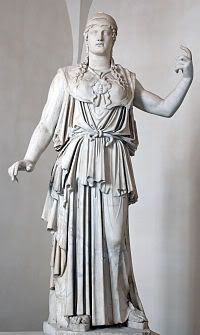 she has never been portrayed in any way other than a virgin and never had any children. Thus she was referred to as
Athena Parthenos
, Virgin Athena. She was a caring goddess, a protector of Athens and its people.
In war, most of the ancient gods and goddesses were very bloodthirsty when the battle cry came upon them. The major goal for them was to kill as many enemies as they could as fast as they could to leave the battle field strewn with the blood of their enemy. Athena's prowess in military matters and her intellectual superiority to Ares, the god of war who fought beside her, gave a more civilized and moral aspect to the battle. Athena used strategy and the virtues of justice and skill, whereas Ares was strictly for the blood lust. Ares was the representation of the distasteful aspects of brutality and slaughter. This is why Zeus appointed both of them to be his war leaders -- to maintain a balance of strategy and might.
Athena is often referred to as Athena Polias,
Athena, Guardian of the City
. She was the guardian of Athens, the city she gave her name to. Birds, the owl being most prominent, and the snake were her symbols. These eventually became the symbols of Athens also.
The Panathenaea, an ancient festival, was held every July in the Parthenon to celebrate the birth of Athena. Contests of the arts, battle, and gymnastics are held in her honour. The annual festival is the Lesser Panathenaea -- every fourth year, the Greater Panathenaea, which is much more magnificent, is held.
Although Athena was childless, she had the qualities of a nurturing and caring mother. She protected heroes and helped them to overcome their battles and struggles. She was the protector of the people of Athens. Athena was also beautiful and desirable. When the attempted rape of her by Hephaestus, the son of Zeus and Hera, failed, his seed spilled upon Earth, Mother Gaia. Gaia became impregnated and bore Erichthonius. Gaia gave the infant to Athena, who raised the child.
Athena also had the qualities of a powerful warrior, which showed her masculine side. She not only protected the kings and heroes of battle, she outwitted enemies with strategy and cunning wisdom.
Athena personifies the balance of masculine and feminine. To call upon Athena in a ritual and ask for her help can restore the balance within us -- to recognize both our masculine and feminine sides will restore harmony.
Image Credits:
Athena, Goddess of Wisdom, Warfare, Divine Intelligence, Architecture and Crafts, Patron Goddess of Athens
Editor's Pick: