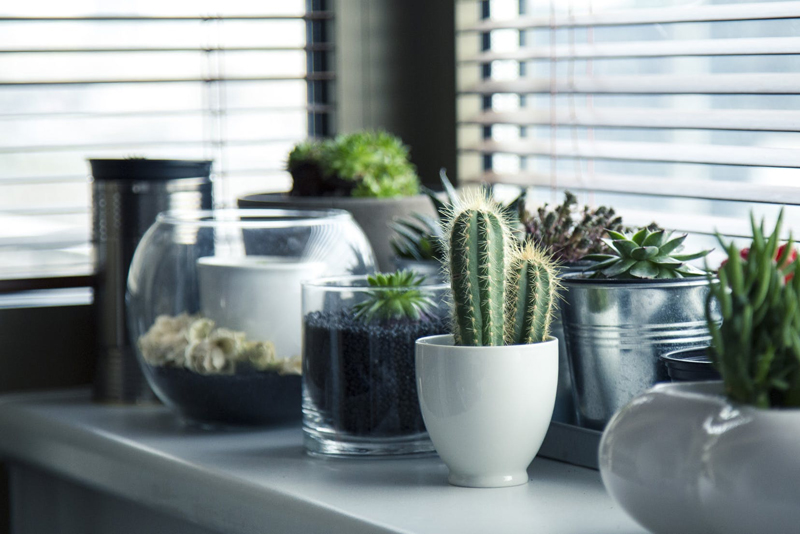 For people with pets or small children, plant toxicity can be a big concern. It affects which plants they will choose to keep in their homes and for some, lack of knowledge on the subject can lead to completely forgoing plants altogether.

It helps to understand what it means when a plant is described as being 'poisonous'. Usually, this is an overstatement. Very few plants are seriously toxic, and if you know what to look for as far as symptoms go, you will be much safer. I do not have children in my home yet, but I do have a curious young cat that has made it his business to sample every plant I own as if they were part of his own personal salad bar. Of course, I had to find out if any of these plants were going to kill him. That wouldn't be good at all.

Dieffenbachia, Philodendron, and Elephant Ears are part of a large group of plants that are known to contain oxalate crystals. Eating a leaf from one of these plants would be similar to eating a piece of fiberglass. Oxalate crystals are like little needles and can be painful, especially in plants with high concentrations like the dieffenbachia. My cat has nibbled my Elephant Ear, and he is fine. I would be worried if he ate a whole leaf, but he seems to have decided it doesn't taste good. Interestingly enough, spinach contains oxalate crystals. Obviously, it's not likely to be deadly; I would expect it's more uncomfortable than anything else. Still, I recommend keeping an eye on your plants if you suspect a small household member may eat it.

Some plants are known to cause dermatitis, a rash or irritated skin. Bougainvillea, Elephant Ears, Lilies, and Caladiums are among the numerous plants in this category. It is usually the plant's sap that causes the reaction, and it's a good idea to wash your hands after handling plants, anyway. In the case of plants like bougainvillea, the thorns are what irritate the skin. I would have to assume that some people have different sensitivities, as I have worked with all of these plants, and have never had any sort of reaction. If you have handled a plant and develop any redness or itchiness, wash the affected area with soap and water. If the area becomes painful, call your local poison control center.

Poinsettias are famous for being toxic, aren't they? We've all heard about that. Actually, poinsettias aren't poisonous. They are in the Euphorbiaceae family, which contains several toxic plants, but poinsettias aren't toxic themselves. Some people may have an allergic reaction to the sap, but I've never known anyone to have this happen to them.

Some plants are considered to be very toxic if ingested. Jerusalem Cherry is one, being that it is in the nightshade family. Hydrangeas are sometimes grown indoors, and this is another that is dangerous to eat. There aren't a lot of houseplants that would fall into this category, and you would have to eat an awful lot of the plant to become very ill, but it's wise to be alert to this. The seeds of many plants contain poisons, especially when unripe, so be sure to teach children about not eating them. Symptoms of poisoning by one of these more toxic plants are difficulty breathing, diarrhea, nausea and vomiting, lethargy, and paralysis. If you keep plants that you suspect may be highly toxic, be sure you keep emergency poison control phone numbers at the ready.

Other types of houseplants that have a reputation for being poisonous merely cause upset stomach or nausea. To sum it up, there are very few plants that should be considered 'dangerously poisonous', but it's always better to be safe than sorry. In general, large quantities of plant material must be ingested for serious harm to occur, but keep an eye out for symptoms of toxicity if you believe that a child or pet has eaten even a small amount. It can be difficult keeping an eye out at all times, so teach children about the dangers of eating houseplants. I keep a spray bottle on hand to educate my cat about not eating plants. It's working quite well.



This site needs an editor - click to learn more!

You Should Also Read:
Non-Toxic Houseplants
Non-Toxic Pest Control
Houseplants Newsletter




Related Articles
Editor's Picks Articles
Top Ten Articles
Previous Features
Site Map





Content copyright © 2022 by Lisa Beth Voldeck. All rights reserved.
This content was written by Lisa Beth Voldeck. If you wish to use this content in any manner, you need written permission. Contact BellaOnline Administration for details.