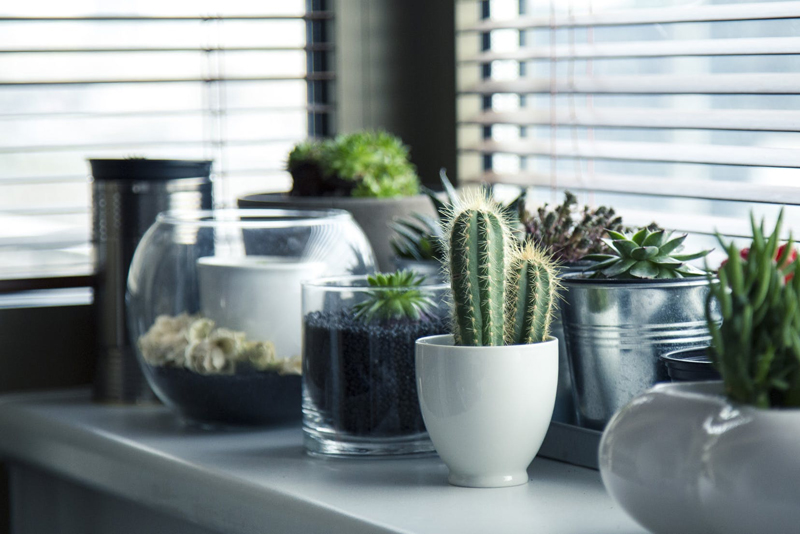 If you have children or curious pets in your home, you might at some time find yourself in this predicament: your favorite plant is covered in spider mites and you don't want to treat it with anything poisonous. Unfortunately, that usually ends up with the poor plant out on the back porch in less than ideal conditions and eventually the death of the plant. I have recently lost several of my favorites this way, having become pregnant. Pesticides are a definite "no" for pregnant women.

Your plants do not have to be condemned if you know a couple of tricks that I've picked up. Non-toxic pest control is a bit more time consuming than using pesticides, but it is environment- and family-friendly. That's something you can feel good about and makes the practice that much more rewarding.

The first tip is to avoid an infestation before it starts. This sounds ridiculously simple, but make sure new plants are completely clean before you introduce them to their new home. I inspect them before I purchase them and then leave them in a "quarantine" area for a week until I'm sure no insects are residing on the plant. That's what I should do, anyway. I haven't done that a few times and ended up with a full-scale invasion in my living room. It's definitely worth the extra effort to introduce a new plant the right way.

Once you have your plants in their proper places, whatever that may be, make a habit of checking them regularly for new evidence of insects. Maybe you will find actual aphids on the plant. You may only find stippling on the leaves or sticky residue, but this is a great early indication that you have unwanted guests. Checking plants often means that you can find pests before they take over every plant you own, and treating one plant is much easier than treating 10. On a side note, keeping plants at a distance from each other reduces the likelihood of insects traveling from one to the other.

If you find that you have a bug problem, your two best bets are products you probably have right on hand: liquid dish soap and isopropyl alcohol. I recommend Ivory brand dish soap because it is the most gentle and won't strip the natural oils from your plants. Isopropyl alcohol can be used straight from the bottle on some plants, but it is best if you use the 70% concentration instead of the 90%.

Dish soap and alcohol can be used alone or in combination for an effective 1-2 punch. Dish soap is great for eliminating any sort of insect, while alcohol is best for soft-bodied insects. Soap basically smothers the insects as it washes them away and alcohol dries the insect out which is typically fatal all on its own.

Which method you use to apply soap and/or alcohol depends on preference, level of infestation, and the size of the plant. For smaller plants, you can cover the top of the soil with a plastic grocery bay to keep the soil in the pot and turn the whole top side of the plant over into a sink of lukewarm sudsy water. Gently swishing it around will knock free stubborn bugs that don't want to let go. Larger plants can be washed off with a washcloth, paying extra attention to the undersides of leaves.

Alcohol can be swabbed directly on to insects like mealy bug and scale. Wipe the visible adults away with the cotton ball or swab. Always do a test area on your plant before placing full-strength alcohol on it. It would be a shame if the plant were very sensitive to the alcohol and was injured. Plants with thicker leaves tend to do better with alcohol. Never put alcohol on flowers.

Alcohol can also be diluted with water in a spray bottle and used to mist plants. Some people like to add dish soap to this spray, but I've found the alcohol spray to work pretty well all on its own. When treating a plant with alcohol, keep it in an area that is safe from drafts or bright sun.

One other tool that some people like to use are the yellow sticky cards. These are often used in commercial greenhouses to determine how severe an insect infestation may be getting, but can also be used to catch pesky fungus gnats and whiteflies. The insects are drawn to the yellow color of the card and then of course get stuck to it. I like these for fungus gnats, because it sure beats trying to catch them all between my hands!

Utilizing these tips will keep your home from being invaded by unwanted plant pests and is safe to implement with kids and pets around. As I mentioned earlier, these methods will demand more of your attention and require more hands-on effort, but it is definitely worth it. You'll be providing a safer environment and saving money at the same time. Who can object to that?

This site needs an editor - click to learn more!

You Should Also Read:
Spider Mites
Aphids
Houseplants Newsletter




Related Articles
Editor's Picks Articles
Top Ten Articles
Previous Features
Site Map





Content copyright © 2022 by Lisa Beth Voldeck. All rights reserved.
This content was written by Lisa Beth Voldeck. If you wish to use this content in any manner, you need written permission. Contact BellaOnline Administration for details.