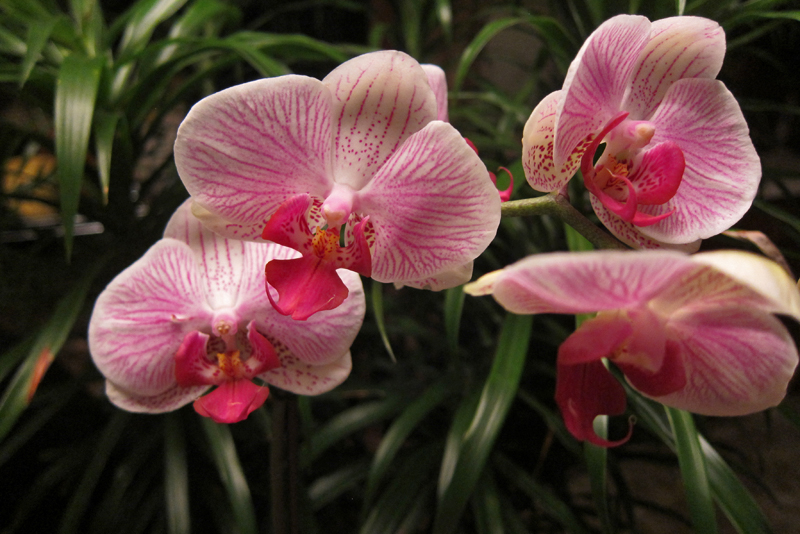 Replace tags
The thin plastic tags that come with most orchids will only last about three years under conditions in a greenhouse. Use either metal tags which are indestructible or heavy plastic tags to replace them so that you will not lose the name of your orchid. The best time to replace the tags is when you repot the plant.

Hydrogen Peroxide for Mealybugs
Use 3 percent hydrogen peroxide to spray on mealybugs and soak the pots in the mixture. It will kill both the live bugs and the eggs as well as disinfect a significant portion of the medium at the same time. Use a cotton swab to hold open leaf axils to allow the mixture go get into the smallest creases.

Use a yellow plastic dishpan
When picking out a pan to use as a water reservoir in your greenhouse or growing room, use yellow. Yellow will attract insects to the water and they will drown! This gives you a two for one punch -- water to evaporate and an insect trap at the same time. Be sure to watch out for mosquitoes using your water to breed, any standing water should be replaced every couple of days.

Keep those little pots of miniatures safe
Growers with many little miniatures will tell you that it's hard to keep them on a normal growing shelf because the little pots will keep getting knocked over or tip over on their own. Make your own hanging screen with chicken wire or hardware cloth and clip them to it on the side of your greenhouse or growing area. They will stay safe and secure and out of the way.

Another staking tip
I recently purchased some long-stemmed silk flowers to put in a centerpiece and had to cut off about 12 inches of stem. The resulting pieces seem to make a wonderful stakes for smaller Phals since the color is yellow/green and the end of the stake is already blunted. It provides a stake which is very sturdy and is still relatively unnoticeable due to its natural color.

Paph presentation tip
When Paphs are growing their inflorescences, tip the pot toward the light so that the buds open facing upwards rather than in the more natural position facing downwards. When the pot is put back in the natural upright position, the flowers will be facing forward for a more pleasing presentation.

Soak your medium before using it for potting
Sphagnum moss is sold in dried form and must be soaked thoroughly before it is used. Warm water will speed up the hydration process. It will generally take about 30 minutes before the moss is ready to use. Natural growing mediums will take longer, at least two hours. Plan ahead by putting them in water the day before you're planning on potting plants.

You Should Also Read:
How to Make an Orchid Tree
Repotting Your Orchids - Phalaenopsis
Tying and Staking Your Orchids


Related Articles
Editor's Picks Articles
Top Ten Articles
Previous Features
Site Map





Content copyright © 2022 by Susan Taylor. All rights reserved.
This content was written by Susan Taylor. If you wish to use this content in any manner, you need written permission. Contact Anu Dharmani for details.