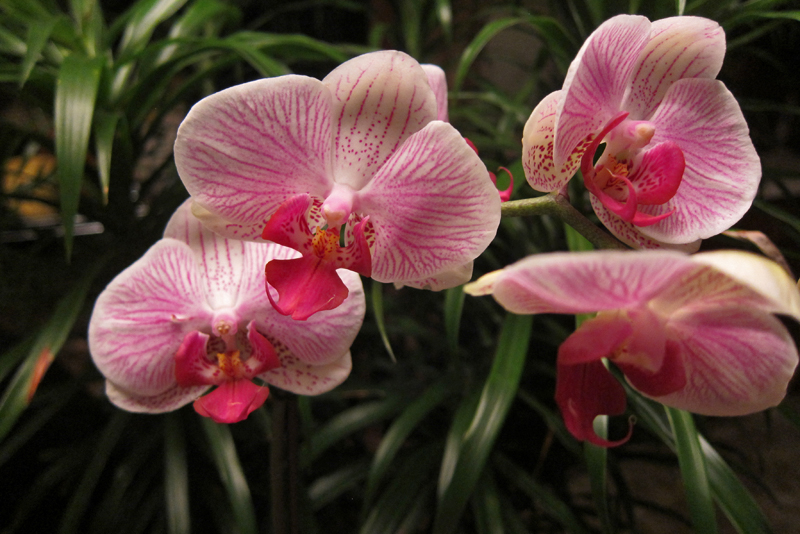 Descriptions and cultural information on growing a number of miniature orchid species.
Angraecum distichum


Grow this miniature for its lovely foliage as well as fragrant flowers.
Cischweinfia pusilla, The Tiny Cischweinfia


Terri Lewin tells us about Cischweinfia pusilla is the type flower for its genus.
Dendrobium bracteosum


Here´s a great little miniature to compact Dendrobium for species lovers.
Dendrobium draconis, The Dragon Dendrobium


Dendrobium draconis is an easy miniature to grow mounted or in a pot.
Dendrochilum filiforme, The Golden Chain Orchid


The Golden Chain orchid is a lovely addition to any collection with its arching sprays of up to 100 tiny yellow flowers.
Dracula erythrochaete, The Red Tufted Dracula


Dracula erythrochaete is a miniature with a face only a mother could love. The name "Dracula" refers to the dragon-like shape of the flower.
Encyclia bractescens – Miniature Orchid Series


Encyclia bractescens is a good miniature for almost any grower. It is easy, does not need high light, and is really cute!
Epidendrums longipetalum and tortipetalum


Epidendrums longipetalum and tortipetalum are great additions to any collection of miniature orchids.
Equitant Oncidiums or Tolumnia


Learn about these miniature orchids
Goodyera daibuzanensis – Miniature Orchids Series


This miniature Jewel Orchid is perfect for adding interest to a terrarium.
Growing Orchids in a Fishbowl


Try growing miniature orchids in a fishbowl if you're having trouble providing them with enough humidity.
Hexisea


The genus Hexisea contains two miniature species well worth growing. Hexisea bidentata and Hexisea imbricata both sport red flowers.
Ionopsis – Miniature Orchid Series


Here´s some information on an interesting little miniature -- Ionopsis.
Isabelia pulchella, The Beautiful Neolauchea


Isabelia or Neolauchea pulchella is a cute little miniature with startling bright magenta flowers.
Laelia esalqueana - Miniature Orchid Series


Here's a lovely little miniature with bright yellow star-shaped flowers.
Leptotes bicolor, a member of the Cattleya Alliance


Leptotes bicolor, a miniature that is best grown mounted.
Masdevallia saltatrix, The Dancer Masdevallia


Masdevallia saltatrix is a wonderful cool-growing miniature.
Miniature Laelias


Miniature Laelias in purple, yellow and white are perfect for the windowsill grower.
Miniature Orchids Series


Continuation of the series on miniature orchids started earlier
Miniature Orchids – Masdevallia


Masdevallias, a South American cloud forest genus, make wonderful plants for the home grower.
Neofinetia falcata, The Japanese Wind Orchid


Learn about the culture requirements for this lovely miniature orchid.
Oncidium cheirophorum, a Small Dancing Lady


Terri Lewin tells us about Oncidium cheirophorum is a miniature version of the popular "Dancing Lady" orchid.
Platystele Mini-Orchids


Learn about two truly tiny members of the orchid family from the genus Platystele. These minis are good candidates for terrarium growing.
Pleurothallis – Miniature Orchid Series


Pleurothallis orchids are among the best of the minis to grow in the home or terrarium.
Ripicolous Laelias- Miniature Orchids Series


Ripicolous Laelias now in the genus Sophronitis are rock dwelling in nature. They are great plants if you can give them the conditions they need.
Rodriguezia lanceolata, The Small Lance-Head Rodriguezia


Rodriguezia lanceolata, The Small Lance-Head Rodriguezia, is a lovely little miniature that looks like a tiny vanda.
Sophronitis cernua, The Nodding Sophronitis


This little Sophronitis is the smallest and one of the easiest of this genus to grow. It is the only one that will survive in warm temperatures.
Thelasis Pygmaea - Miniature Orchid


Thelasis Pygmaea is a tiny orchid growing in the tropical forests of South Asia. It can be grow for its uniquely shaped pseudobulbs.
Three Popular Maxillaria -- tenuifolia, rufescens and variablis


Learn about three popular members of the the Maxillaria genus suitable for growing in the home.
Editor's Picks Articles
Top Ten Articles
Previous Features
Site Map
Content copyright © 2018 by . All rights reserved.
This content was written by . If you wish to use this content in any manner, you need written permission.
Contact Anu Dharmani for details.