Orchid Growing Tips for Spring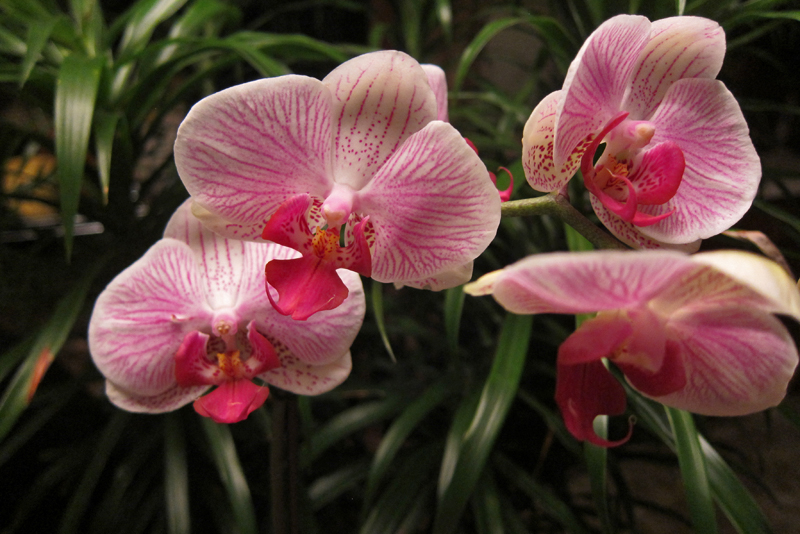 Phalaenopsis or Moth Orchids
Many Phals will be blooming at this time of year. Be sure to stake the inflorescences so that the flowers are displayed to their best advantage. It is important to keep the plant in exactly the same spot and facing the light in the same direction to allow the flowers to develop naturally. Add 1/4 tsp per gallon of Epsom salts while the plant is producing the inflorescence and flowering to keep the leaves from turning yellow.

Paphiopedilum or Slipper Orchids
This is the time of year to repot summer blooming Paphs. These quick growing plants should be repotted every year and do not much care when it is done. Check for pests, especially scale and mealy bugs, when repotting and treat both the plant and the medium to eliminate problems.

Cattleya Alliance Plants
Clean up and stake the pseudobulbs with forming buds and clean the plants of old dead material to uncover any possible pests as well as to make it look its best to show off the flowers. Spring is the best time to repot those Catts growing out of their pots. Winter blooming Catts should be allowed to rest for a month or two with reduced watering and no fertilizer.

Oncidiums
Oncidiums should also be blooming or spiking in the spring. Stake the thin inflorescences carefully with long stakes and train them straight up the stake with clips. Watch carefully as they grow so that side shoots on the inflorescence do no get caught in clips or you will develop unsightly spots. Spring is also the time to repot orchids in this alliance as the new growths have about half matured.

Dendrobiums
Spring blooming Dendrobiums are now at their height. Stake the plants themselves rather than the inflorescences. A stake in the middle of the pot can often support the small varieties if you use raffia to tie the individual canes back to the central stake. This will pull the plant together for a pleasing presentation. Be sure to fertilize adequately so that the plants will have the nourishment to hold their blooms and start growing after the blooming season.

Vary your watering schedule
With up-and-down temperatures, cloudy days and unpredictable weather, spring is a very hard time for orchid growers. Match your watering schedule to the weather. If the temperatures are warm and the sun is out, water as you do during summer. If the days stay cool and cloudy, then revert back to winter schedules. Watch your plants carefully and check how damp the pots are. When everything feels dry, wait a day or two and then water!

Watch the leaves on your plants for burning
As the amount of light plants get increases in the spring, it doesn't take long for the light to get too strong for many orchids. You will start to see some yellowing of leaves that is not the normal dying off. As soon as this starts to become apparent, provide more shade, either with shade cloth in the greenhouse, or sheer curtains in a window.

Increase your fertilizing schedule
It's time to go back to a once-a-week (weekly, weakly) fertilizing schedule for your orchids. This will encourage new growth and blooming for the coming year.

You Should Also Read:
How to Make an Orchid Tree
Repotting Your Orchids - Phalaenopsis
Orchid Growing Tips #14


Related Articles
Editor's Picks Articles
Top Ten Articles
Previous Features
Site Map





Content copyright © 2022 by Susan Taylor. All rights reserved.
This content was written by Susan Taylor. If you wish to use this content in any manner, you need written permission. Contact Anu Dharmani for details.