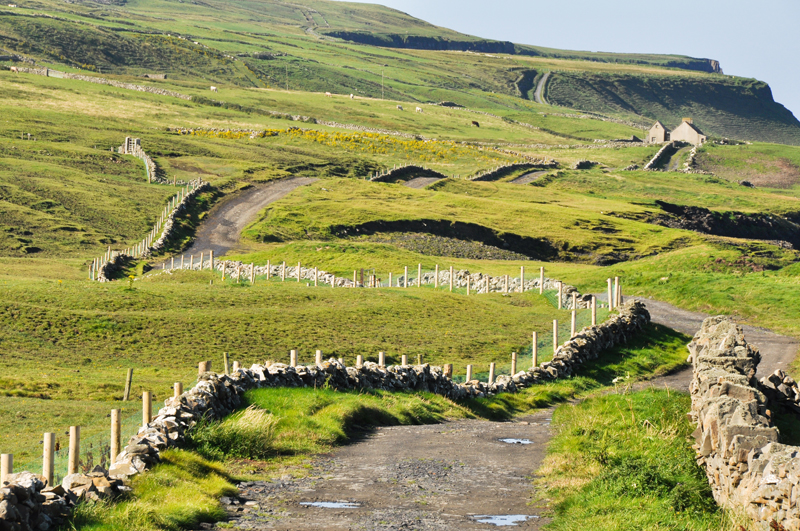 Ireland is notable as one of the more deforested countries in Europe. But this is only a relatively recent development with a vast timber harvesting between the seventeenth and nineteenth centuries. Until then, Ireland had many forests and ancient Irish language and culture was defined by trees.

In a recent podcast from Irish radio NearFM's series "New Perspectives on Irish History", presenter John Haughton makes the point that the ancient Irish, the Gaels or Celts as they were then known, literally 'talked trees.' The Celts long resisted a written language, consequently much of the myths we know today comes from Greek and Latin sources who wrote oral tales. However, the Celts did have the Ogham (pronounced OH-um) alphabet. This is also known as the Celtic Tree alphabet, twenty letters based on native trees or other natural species, plants like broom or reed (NGétal).

Scholars debate translations of the vertical and horizontal strokes that represented the first alphabet of the Gaelic language. Consider the native willow, Saile in the Irish language and often referred to as sallies by country dwellers today. The letter for saile did not just mean willow. It could also be considered as 'sustenance for bees', referring to the spring time when bees collect nectar. Another translation is 'beginning of honey', but is also could be used descriptively as 'the pallor of the lifeless one.'

From its inception the Gaelic language was rich in metaphor, its meanings layered and dense. There are even two words in Irish for tree – crann and bile. The first has a modern connotation, while the latter is also the name of the husband of the goddess Danu who was worshiped by one of the tribal invaders immortalized in Irish mythic cycles. Trees were sacred and sacramental enough for a goddess to take one as her husband. We can only speculate about the religious significance of trees in prehistoric Ireland, but from the evidence of stories like Danu and Bile we can discern that they did have great cultural importance.

Ancient texts also tell us that Ireland had seven sacred or chieftain trees. These were oak, apple, hazel, holly, ash, yew and pine. These were the giants of the wood, rather than the shrub-like native species like gorse, hawthorn, elder or blackthorn.

Ireland's trees also gave us a tree calendar. Yet, there is dispute about the actual timings or month assigned to specific trees. Beith, or birch, is the first letter in the Ogham alphabet. But does it refer to Samhain, November 1st, which was the official New Year for the ancient Celts? Or does it occur closer to Imbolc, February 1st, when there are the first signs of the earth's renewal, when the sap literally does begin to rise? Some scholars consider Yew as the tree for Samhain and Birch for January and the run up just before St. Brigid's Day. Those born on 31st October, All Hallows or New Year's Eve, even get to have a tree all their own – the Bile Buadha or Tree of Power (Knowledge). The Bile Buadha is a magical tree similar to the Axis Mundi, the World Tree, from whence all creation springs.

Ireland is still less forested than she might be. In the economic turmoil since 2008, the Irish government has sold off many publicly owned forests. This has implications for global climate change as well as Ireland's carbon footprint. Voluntary organizations like Crann and Forest Friends Ireland are determined to re-leaf Ireland and many tree planting schemes happen over winter when bare-rooted stock can be put into the ground. Year round, trees nurtured in pots can be planted. Peace Forest Ireland has taken the initiative to plant a million trees along the border of Northern Ireland and the Republic of Ireland as a lasting memorial to reconciliation.

The Tree Council of Ireland declares the first week of March as National Irish Tree Week. re-leafing Ireland. Sponsor a tree in memory of a loved one who has passed away. Adopt a native tree as your 'family' tree and plant one. A tree will outlast us all, living and breathing Irish culture.






Related Articles
Editor's Picks Articles
Top Ten Articles
Previous Features
Site Map





Content copyright © 2022 by Bee Smith. All rights reserved.
This content was written by Bee Smith. If you wish to use this content in any manner, you need written permission. Contact Bee Smith for details.