Greenhouses - Light Requirements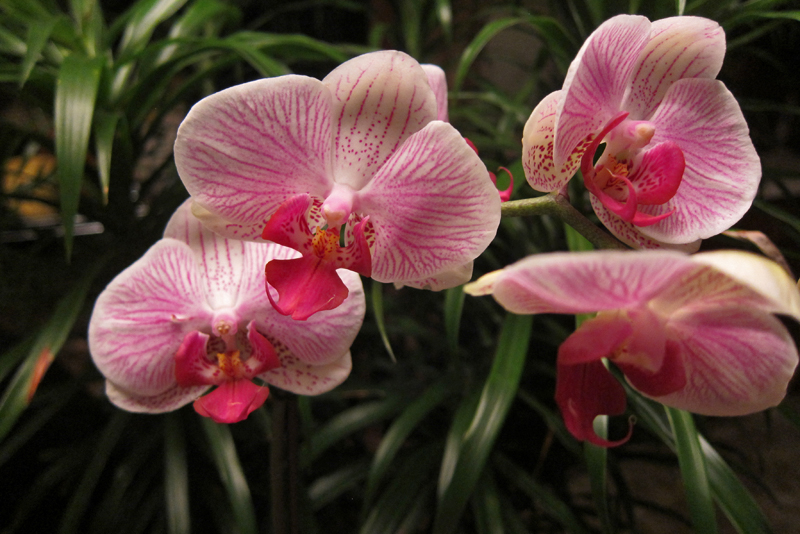 One of the best things about having a greenhouse is that there will no longer be the problem of not being able to re-bloom plants that require more light than can be easily obtained inside a house. You can now think about Cattleyas, Cymbidiums and Vandas! The flip side of the coin is that you will have to provide enough shade for those Phals and Paphs that you already may have purchased to grow indoors…

The problem with light in a greenhouse is that there is often too much of it. The sun on a greenhouse can quickly provide enough light to burn up the leaves of most orchids. Even Vandas can react negatively to too much light.

So, what do you need to do? Shade cloth is one alternative that works well for most people. Ideally, it is installed approximately 12 inches or 30 centimeters above the roof of a greenhouse in order to provide shade as well as a temperature inhibitor. In reality, it is very difficult to install it this way unless you have a greenhouse that has built-in supports to do so. Here in the southern part of the US, we have so much wind that keeping shade cloth on a greenhouse even when it is firmly attached is a chore. Another alternative is a paint that is applied to glass or plastic which cuts out a certain percentage of the light.

For most greenhouses, of course depending upon what you are growing, a 70% shade cloth should be used for lower light orchids and up to 50% for higher light types. You can vary the light in your greenhouse by using different percentage cloth in different areas. You will also find that shadier spots can be maintained by hanging high light orchids near the ceilings and placing lower light plants below them.

Building your greenhouse under or near a deciduous tree is one alternative that makes sense. If you can provide mid-day and afternoon shade this way, your plants will thank you. Shading from the east will not do you much good since you will still get the hot afternoon sun so you will need to use shade cloth or paint or other means to provide relief.

During the late fall and winter months you will not need shading and should remove it to allow the short winter days with weaker rays to encourage your plants at full strength. The trick is to determine when to remove the cloth in the fall and when to put it on in the spring. The fall date is not particularly critical as long as you do not do it too early; the spring date can mean the difference between burned leaves and healthy plants. Watch your plants. If they start to exhibit yellowed leaves on plants that had been normal looking, then put up your cloth.

When you either put up your cloth or take it off, check around your greenhouse and make sure that there aren't any plants that need to be moved. Is something too shaded now? Should it be moved to more light? Or if you've just taken off the shading, is there a Phal or Paph that needs more shade under a hanging one? These are all part of learning the needs of your plants and growing them to the best advantage.


You Should Also Read:
Hobby Greenhouses for Orchids
Enough Light for Orchids
Light Meters and Hygrometers


Related Articles
Editor's Picks Articles
Top Ten Articles
Previous Features
Site Map





Content copyright © 2019 by Susan Taylor. All rights reserved.
This content was written by Susan Taylor. If you wish to use this content in any manner, you need written permission. Contact Anu Dharmani for details.